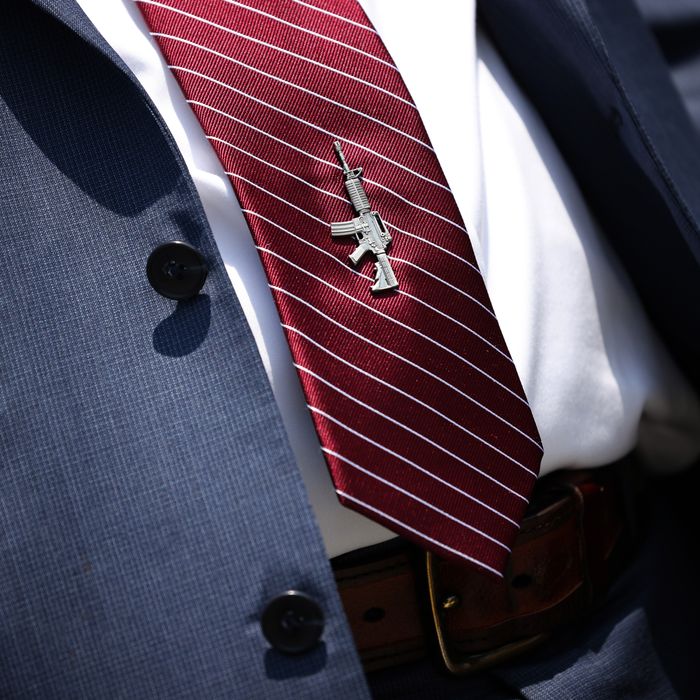 Hands off!
Photo: Win McNamee/Getty Images
Earlier this week, congressional Democrats and media folk noticed that Republican U.S. House members, including trouble magnet George Santos, were sporting lapel pins made in the shape of an assault weapon.
I immediately thought, That has to be coming from Andrew Clyde. Last spring, I traveled through Clyde's House district in northeast Georgia to attend a wedding, and the gun dealer's ubiquitous campaign signs all featured the same image, which I could no more forget than the "Whiskey, Steak, Guns & Freedom" T-shirts all the servers were wearing at the reception.
Sure enough, Clyde was the one distributing the little accessories honoring lethal weapons amid this year's epidemic of mass shootings:
It's no surprise that there's a market for Clyde's pin among his GOP colleagues. Earlier this week, several pitched a fit over a Democrat's proposal that they leave their guns behind when entering a congressional hearing room.
Clyde had already distinguished himself during his first term in Washington by managing to outdo his friend Marjorie Taylor Greene in some types of performative extremism, as I noted at the time: "While Clyde is far less well known than his fellow Georgia representative, he has made headlines for racking up fines to protest House COVID-19 mask rules and suing the House to abolish the metal detectors designed to keep shooting irons off the House floor."
Photo: Anna Moneymaker/Getty Images
His antics weren't surprising considering the 2020 campaign that brought him to Congress in the first place. His claim to fame was a long legal battle with the IRS, and he painted himself not only as a MAGA champion and Second Amendment absolutist but a proponent of a no-exceptions ban on abortion.
The gulf between Clyde and his fellow Republicans and congressional Democrats on guns is incredibly deep. Incurable fans of bipartisan cooperation ought to take note and repent. A couple of quotes from a Washington Post article on the assault-weapon pins show what Clyde meant by "triggering":
Rep. Cori Bush (D-Mo.) pointed out that GOP lawmakers were wearing the lapel pins during National Gun Violence Survivors Week. Dozens of mass shootings have already taken place across the country in 2023, outpacing previous years, according to data tracked by the Gun Violence Archive.

"Weapons of war have no place on our streets, much less on our lapels," Rep. Dina Titus (D-Nev.) declared.
It should be clear by now that the pins' wearers don't intend them merely as a smirking "own the libs" gesture but as a threat. As Second Amendment ultras often make clear both explicitly and implicitly, they claim the right to shoot and kill not just rampaging criminals or wild varmints but any agents of "tyrannical government" — presumably cops and soldiers. The idea of violent revolution is at the heart of every claim that the right to bear arms is the right that protects all others. It's the chain of logic that leads people from resisting all gun regulation to echoing NRA CEO Wayne LaPierre's famous reference to ATF agents as "jack-booted thugs."
The assault-weapon lapel pin, then, isn't just a taunt, and it certainly isn't a joke. It's a message to the rest of America that guns are the wearers' ultimate weapon of choice against democracy, if it comes to that.