Do you own a tactical belt? If you're an outdoor enthusiast, a law enforcement officer or an EMT, a tactical belt might be just the thing you need. No matter what your profession or activity, tactical belts are a great addition to your wardrobe so long as you also have tactical pants.
They're durable, flexible and can handle a surplus of supplies, so much so that you'll never regret investing in the right one.
Because a tactical belt is a vital part of your tactical gear, you'll need to purchase the best quality, as it will hold and secure your necessary tools for survival. But before you choose a tactical belt there are several important things you need to keep in mind. For example, will you be using it for tools, a tactical flashlight or concealed carry weapon (CCW) in addition to your regulation equipment?
Get Great Guns and Ammo Deals!
---
Composition of Tactical Belts
Tactical belts are made of highly adjustable strength material and are much tougher than normal everyday belts. Generally, they're thick, which makes it tricky to loop through your belt buckle. But with technological advancements, some tactical belts come with buckles that can be removed and then reattached after the belt has been looped through your pants.
There's going to be situations when you need to be ready at a moment's notice. A cheap, flimsy belt is certainly not the ideal accessory. The best tactical belts are robust and strong, and at the same time, have the flexibility to harmonize with your other tactical gear.
In addition, tactical belts should be carefully designed, have a solid build quality, carrying capacity, and above all, the best in comfort.
---
Who Uses Tactical Belts & Why
Most often used by law enforcement officers, training instructors, and military personnel, tactical belts are also a necessity for other folks in their workplace. From construction workers to utility repair persons, at some point they all need the same device to carry extra loads — durable tactical belts.
A good tactical belt is attributed to high quality craftsmanship and even greater flexibility with adjustable strength. In addition, this type of belt also needs to be compatible with other gear like magazine pouches, extra ammo and tactical equipment, plus more necessary tools.
You'll also want your tactical belt to be reliable, secure, and the gear it carries to be within your hand's reach at all times. A stylish, tough, and comfortable tactical belt that offers all of this will be an ideal choice, because you never know when you'll be in a situation when you need your tactical gear.
---
How to Choose the Best Tactical Belts
Your best bet is to choose a tactical belt that is rigid and strong. Today's technology produces quite a few tactical belts which are reinforced with liners to make them incredibly strong. Because when the belt is stiff, the weight gets evenly distributed and it stays put so that you can reach for your gear at the location you need — and expect it to be.
Additionally, never underestimate the buckle — it's vital to holding the belt up and keep it in place with all the supplies and weight it bears. For example, whenever you carry a great deal of weight such as a flashlight, multiple tools or a heavy handgun, you need a solid device to hold it stable on you hips.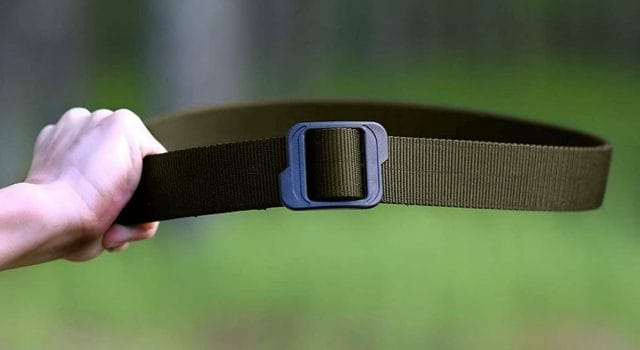 With so many tactical belts available on the market, it may be a bit overwhelming as to which one best suits your requirements. Quality should be the number one criteria when deciding which tactical belt to buy.
How about an instructor tactical belt? This particular type requires a clipping apparatus and usually boasts reinforced stitching as well as a heavy duty buckle. Rigger Belts are not for guns, rather they're used for rock climbing, zip lining and fast roping and they can be quite useful.
---
Tactical Belt Material, Size and Fit
One thing is absolutely certain — your tactical belt must be strong and should be able to effectively distribute the weight of the gear you are carrying and ready for use. With regard to so many mass school shootings, it's becoming the norm for more resource officers to be present at schools nationwide. During such critical times, an officer doesn't need their tactical belt to fail.
Also, it's essential that a tactical belt has the proper width and fit for the maximum amount of comfort. Typically, tactical belts are thick — ranging from 1.25 inches to 2 inches. Thicker belts are more useful because they are capable of distributing the weight better, because your tactical belt won't be of much use if you can't secure your holster.
Finally, because of today's increased and tighter security, it's wise to purchase an airport security ready buckle made of plastic, hence there's no hassle when you need to remove it at the security check.
In order to make your tactical duty belt fully functional, you should always be mindful to set it up correctly. There are numerous accessories available for a tactical duty belt — and you can get them for an additional price to customize your belt. Such additions include:
Flashlight holder

Glove holder

Radio pouch

Handcuff pouch

Magazine pouch

Pepper spray/Mace pouch
Overall, choosing an appropriate duty belt that is suitable to your needs requires you to consider the following:
Which material is best for your daily use?

Measure your waist!
…
---
Best Tactical Belts
If you follow these suggestions, you'll most likely find the right tactical belt for your specific needs. Check out some of our favorites below
The Condor name is very well known when it comes to outdoor products and tactical gear. They've manufactured some of the best quality-made, popular tactical belts all over the world and come equipped with two removable pistol mags. They're lightweight, reliable and create an excellent way to be fully equipped.
The fact that it's long enough to adjust to a waist circumference of 44 inches is always a nice perk. Therefore it's suitable for most anyone. Designed and manufactured for people who are tough on their accessories, the Condor Tactical Belt is made from super sturdy nylon fabric.
The Condor Tactical Belt will provide you with maximum security for a lifetime.
Condor Tactical Belt Pros
Cons
Buckle fails to completely fasten
Condor Tactical Belt Features
Quick release buckle

Lightweight and durable

Weight: 1 pound

Width: 2 inches

Check latest price on Amazon
---
The 5.11 TDU Tactical Belt is versatility at its best. It's a smart choice if you need quickness, convenience, and functionality. In addition, this belt can quickly convert into a secondary carry strap which makes it the best choice for air travel.
Besides being very comfortable, 5.11 tactical belts are stylish enough for everyday casual wear, and reliable enough for any type of tactical duty. If you need a patrol duty or CCW tactical belt that won't let you down, the 5.11 TDU Tactical Belt is the choice for you. It also offers a wide range of features, excellent fit and everything else you need to get your job done.
5.11 TDU Tactical Belt Pros
Available in three sizes

Comfortable and functional

Holds accessories securely
Cons
5.11 TDU Tactical Belt Features
Constructed of rip-resistant nylon

Stronger than any other tactical belt on the market

Durable, non-metallic buckle

Safe for metal detectors

Ergonomic, versatile design

Great for patrol/tactical/everyday

Width: 1.5 inches

Check latest price on Amazon
---
The Propper company certainly pay attention to details. Located in St. Charles, MO, their design team is dedicated to the research and development of new products to bring you the best of the best tactical gear. From tactical pants and shoes to tactical bags and belts, the Propper brand is sure to deliver a quality made tactical product for your needs.
Whether you are enjoying outdoor travel or on duty, the Propper Tactical Belt will provide you with best in craftsmanship for whatever you need to accomplish. With an easily adjustable belt buckle, this belt is sure not to let you down — in any tactical environment.
Constructed of the toughest in heavy-duty nylon, this tactical belt is made to withstand use after use for many years to come. It's simply a great choice if you're on a budget.
Propper Tactical Belt Pros
Best budget tactical belt

Long length but durable

Very comfortable for your waist

Available in a variety of colors
Cons
Some users complained it's not authentic
Propper Tactical Belt Features
Comfortable and versatile

Lightweight, heavy duty nylon

Affordable

Molded buckle for easy adjustments

Flexible, durable

Weight: 4.8 ounces

Width: 1.5 inch nylon webbing

Amazon's choice!
---
4.

TRU-SPEC

(Popular Choice for Professionals)
The Tru-Spec brand is one of the leading men's uniforms and personal equipment suppliers on the market today. This tactical belt is worn by thousands in the workforce —  EMTs, military personnel and police officers wear Tru-Spec belts on a daily basis.
Therefore, the Tru-Spec tactical belt is a durable, innovative product made with the best quality and craftsmanship.
Tru-Spec Tactical Belt Pros
Great value for your money

Completely functional
Cons
Loops tend to be wider than standard ones
Tru-Spec Tactical Belt Features
One of the best tactical belts available

Buckle is constructed of 100% polyester plastic

Security friendly for checkpoints

Hidden pockets for multiple accessories

Weight: 1 pound

Width: 1.75 inches

Check latest price on Amazo

n
---
Located in Austria, the Klik company claims they have the strongest side-release belt buckle (called the Cobra) ever made. Besides its super strength solid buckle, the Klik belt is one of the best tactical belts for everyday use.
The Klik Tactical Belt features two options for your needs and comes in seven different colors. If you're searching for the most high quality and durable tactical belt that comes with an attractive and solid design, then this utility belt is probably the one for you.
However you put this military grade belt to use, it will certainly will meet your needs — and then some.
Klik Tactical Belt Pros
Fully adjustable for a terrific fit

Strongest and securest belt available on the market
Cons
Not meant to be worn by trade workers
Klik Tactical Belt Features
Aluminum alloy buckle featuring solid brass release clips

Military grade tough nylon webbing

Handmade craftsmanship

Weight: 5.6 ounces

Width: 1.75 and 1.5 inches

Check latest price on Amazon
---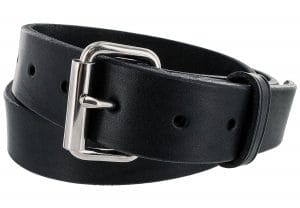 From belts to wallets, Hanks makes all of their products with 100% full grain vegetable tanned leather. Because their belts look ordinary and casual, they're the perfect choice those who carry concealed carry weapons, such as undercover agents or detectives.
The long-lasting durable leather is crafted by Amish experts. And it's designed with the utmost functionality to anchor your holsters in place as well as access your firearm quickly. This quality leather will not stretch or sag, so it will look sharp — even after years and years of use.
Even the buckle is superbly made — it's secured by removable screws instead of snaps. This means you can change the buckle and not fret about about breaking any tacky snaps. Additionally, the Hanks Belt CCW Full Grain Tactical Belt is backed by the company's 100 year warranty.
Pros
Durable top-notch leather grain
Cons
Features
Made of 100% solid leather grain

Easy holster access to firearm

Plenty of space for extra ammo and more

Width: 1.5 inches

100 year warranty

Check latest price on Amazon
---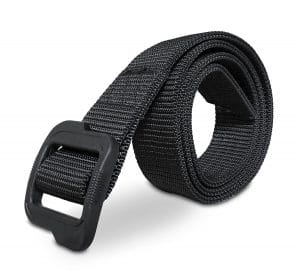 Designed with concealed carry in mind, the Mission Elite Heavy Duty Tactical Web Belt uses two layers of premium quality nylon webbing. Additionally, it's made to withstand a vast range of equipment and other necessities on a daily basis.
Along with other pouches, you can also store your holster and a heavy gun — this belt is really thick! Even though it's broad, it's still extremely flexible and comfortable to wear. A great feature of this tactical belt is the fact that the buckle doesn't use holes — which means you can get an exact fit around the waist.
The Mission Elite Heavy Duty Tactical Web Belt is absolutely guaranteed to stay in place while at the same time it will not give you the feeling of suffocation. Made with superior quality and manufacturing, the Mission Elite Tactical Belt is designed for daily use over a long timespan.
In addition, the plastic slip-resistant buckle on this belt is undeniably tough, and its non-metallic composition makes it just right for air travel.
Mission Elite Heavy Duty Tactical Web Belt Pros
Casual enough for daily use

Slip-resistant buckle

Comfortable
Cons
Double layer can be a bit rigid
Mission Elite Heavy Duty Tactical Web Belt Features
High quality 1.5-inch reinforced nylon webbing

Withstands extreme conditions

Thicker, stronger than other belts

Can be used for everyday carry tools and gear

Metal-free plastic buckle

TSA friendly

No holes in this adjustable belt

Check latest price on Amazon
---
Tactical Belts – Final Thoughts
Are you a police officer, utility worker, fire firefighter, military person or EMT and need your vital equipment at a moment's notice? Well, you've just gained some valuable information. This review was written to guide you in your quest for the best tactical belt. It's always smart to be prepared when you're in a tactical scenario — the right tactical belt will help you to do your best.
Wearing one of these quality tactical duty accessories will give you the confidence and security you need on the job. Today's advanced tactical technology allows manufacturers to deliver unsurpassed results when they're crafting tactical belts.
With so many belts to choose from, it may be rather daunting to decide which one is the best. In this list of our best tactical belts, any one of them is a solid choice — it just depends upon your needs and budget. Make sure to get the right size, and always take into consideration the holsters to aid in your correct sizing.
While this review is not a complete list of tactical belts, it does provide you with valuable information for some of the best options available in the tactical industry. Our goal at Gun News Daily is to help you — the hardworking individual who requires the comfort and security of a durable belt. Because when it really comes down to it, don't you have more to worry about than a flimsy belt snapping?
Recommended Reading
Essential Items For Survival Kits