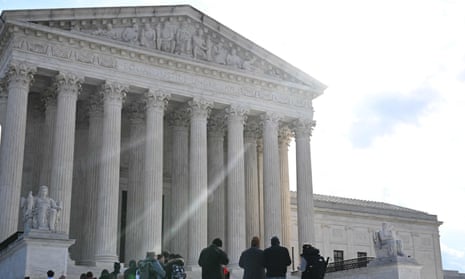 US supreme court lets Arkansas law penalising Israel boycotts stand
Anti-boycott law provides model for legislation to protect oil companies, gun makers and contentious industries from protest
The US supreme court has let stand an Arkansas law penalising boycotts of Israel that has provided the model for a proliferation of similar legislation to protect oil companies, gun makers and other contentious industries from political protest movements.
The supreme court declined to hear an appeal from the editor of the Arkansas Times, Alan Leveritt, after a federal court upheld a law requiring him to sign a commitment not to boycott Israel in order to receive advertising contracts from the state.
The American Civil Liberties Union (ACLU) asked the supreme court to overturn the Arkansas law on the grounds it is in conflict with the court's own ruling 40 years ago that popular boycotts have a long tradition in American history and are protected speech under the first amendment.
The law is one of more than 30 passed by states in recent years, backed by both Republicans and Democrats, that require individuals or companies to pledge not to boycott Israel or its settlements in the occupied Palestinian territories in order to do business with the state.
The laws, pushed by groups such as American Israel Public Affairs Committee (Aipac) and the American Jewish Committee with the backing of the Israeli government, are primarily aimed at the Palestinian Boycott, Divestment and Sanctions (BDS) movement. But they have also provided the template for legislation to curb boycotts of companies over the climate crisis, gun control, factory farming and others issues.
Leveritt said he had no intention of boycotting Israel, with which his newspaper does no business, but he refused to sign the commitment because it "requires the Arkansas Times to take a political position in return for advertising".
The editor said he was disappointed that the supreme court declined to take the case but it will not change his position.
"We're not going to sign any political pledges in return for advertising. The supreme court can ignore our our first amendment rights but we'll continue to exercise them vigorously," he said.
Although a federal court upheld the Arkansas legislation, courts in other jurisdictions have ruled against similar laws and forced some states to weaken their provisions.
Kansas revised its law in 2018 in the face of a lawsuit by a Wichita teacher told to sign a pledge not to boycott Israel in order to keep her job. Texas narrowed its law to exclude individuals, and to apply only to larger companies, after a school speech pathologist sued when she lost her contract for refusing to sign a similar commitment. The ACLU and other groups also won judgements in Arizona and Georgia that anti-boycott laws intruded on free speech rights.
Leveritt warned that letting the Arkansas law stand will lead to further supression of legitimate political protest against corporate interests.
"This is simply a template. It doesn't stop here. We now have in the Arkansas legislature bills introduced to deny state contracts to financial and banking institutions that have ESG (environmental, social, and corporate governance) policies that prohibit them from investing in fossil fuels or firearms companies," he said.
"In other states they've introduced laws to deny state contracts to any company that subsidises their employees transportation costs if they go out of state for an abortion. So this is just going to be used time after time after time, eventually, the supreme court is going to have to deal with it, or else it's going to be open season on the first amendment."
Several states have passed the the Energy Discrimination Elimination Act to shield big oil from share selloffs and other measures to protest against the fossil fuel industry's role in the climate crisis. Other legislation is designed to prevent banks from "denying financing to creditworthy companies solely for the purpose of marketing their environmental or social justice credentials".
The ACLU's chief litigator in the case, Brian Hauss, described the supreme court's decision not to take up the case as a "missed opportunity" to clarify the law.
"From the Boston tea party to the Montgomery bus boycott to the boycott of apartheid South Africa, Americans have proudly exercised that right to make their voices heard. But if states can suppress boycotts of Israel, then they can suppress boycotts of the National Rifle Association or Planned Parenthood. While we are disappointed with the result in this case, the ACLU will continue to defend the right to boycott in courts and legislatures throughout the country," he said.
Hauss said that given the conflicting rulings from different jurisdictions over the legality of the anti-boycott legislation, he believes the supreme court will have to confront the issue eventually.
"Sooner or later they are going to have to address this because already the anti-boycott statutes are proliferating, and I'm sure that is going to continue over the next several years," he said.