The former Tennessee legislators who were ousted last week by the state's Republican-led House of Representatives said on April 9 they would accept reappointments by their respective districts and will run in the special elections to fill their seats.
Justin Pearson, a Democrat who had represented Memphis, and Justin Jones, a Democrat who represented Nashville, appeared on NBC News' "Meet the Press," vowing to return as lawmakers and delivering harsh criticism of the Tennessee state legislature.
Pearson called it a "toxic work environment" and Jones said the House "is an institution filled with people who are more concerned about supporting the NRA and supporting the Second Amendment than it is protecting the First Amendment rights of children and teenagers to be able to come to the Capitol to advocate for gun violence prevention laws."
On March 30, hundreds of protestors assembled at the state Capitol in Nashville to demand stronger gun control laws after an assailant shot and killed three 9-year-olds and three adults at The Covenant School in the city.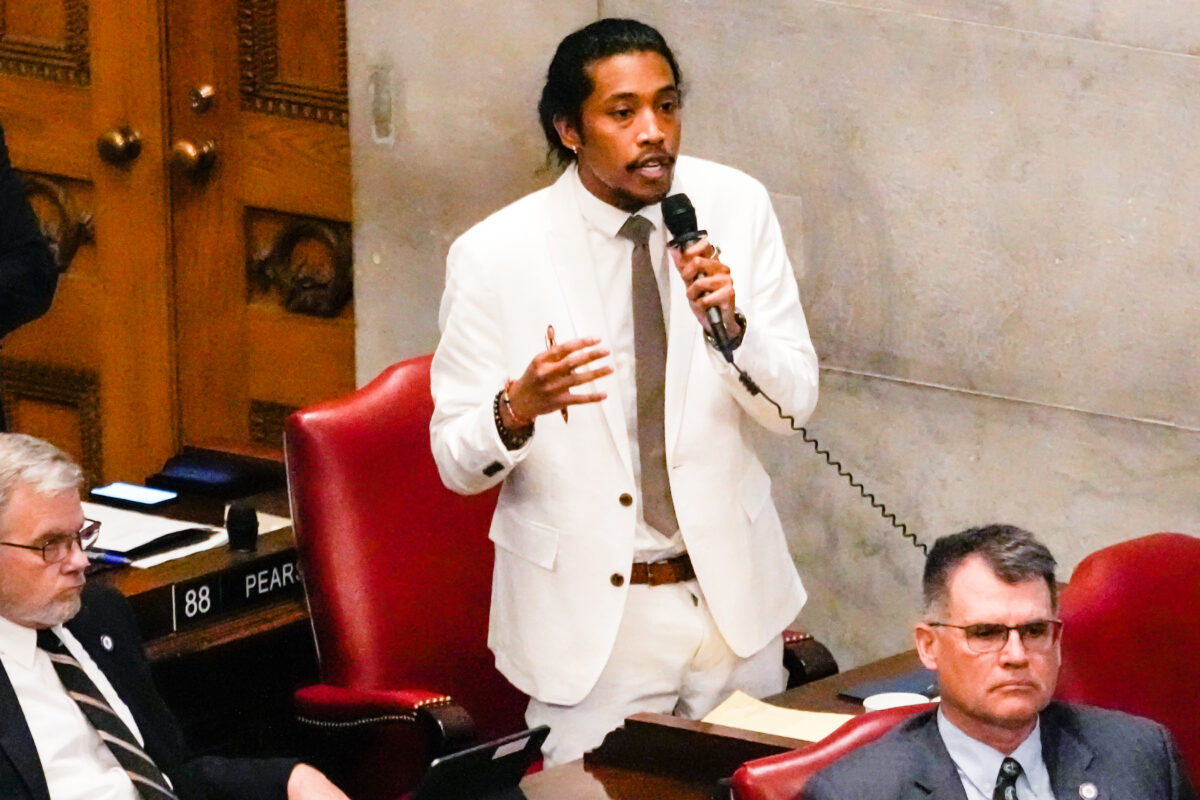 Protestors entered the House and Senate chambers, while chanting and shouting. On the House floor, Jones and Pearson led chants through a bullhorn while lawmakers announced a recess.
A resolution introduced by Tennessee Republicans accused the lawmakers of participating in "disorderly behavior" that brought "disorder and dishonor to the House of Representatives." Pearson and Jones were expelled by their House colleagues on April 6. Republicans also considered ousting a third lawmaker involved in the protest, Gloria Johnson, but failed to do so.
Vice President Kamala Harris traveled to Nashville to meet with the three Democrats on April 7, and President Joe Biden praised the legislators during a video conference call from Camp David.
"Earlier, I spoke to Reps Jones, Pearson, and Johnson to thank them for their leadership and courage in the face of a blatant disregard of our nation's democratic values," Biden wrote on Twitter. "Our country needs to take action on gun violence—to do that we need more voices like theirs speaking out."
The three Democrats thanked Biden for his "leadership in seeking to ban assault weapons and standing up for our democratic values" and for his backing as they have experienced "unprecedented attacks" over their actions, according to a White House statement.
"I think the most resounding message we're hearing from the White House and across the world, and people across this nation is that this attack on democracy will not go on and challenge that the Tennessee House Republicans attempt to crucify democracy has instead resurrected a movement led by young people to restore our democracy to build a multiracial coalition," the 27-year-old Jones said on "Meet the Press."
"I think our presence as young black voices for our constituencies, people who will not bow down, those who will not be conformed, that's what put a target on us the day we walked in the Tennessee General Assembly.
"I mean, this is the first time in Tennessee history we had a completely partisan expulsion by [a] predominantly white caucus—all but one member of their caucus is white out of 75 members—and we are the two youngest black lawmakers in Tennessee.
"And so what we saw was a system of political hubris. This was not just an attack on us, it was an attempt to silence our districts."
Pearson, 28, received backlash from state Republicans when he wore a dashiki on the House floor when he was sworn in earlier this year. Pearson violated "decorum and dress attire," the GOP lawmakers said.
"It has always been a toxic work environment to work in the Tennessee state Capitol, when you have people who made comments about hanging you on a tree and hanging Black people on a tree as a form of capital punishment, when you wear a dashiki on the House floor, and a member gets up and they talk about your dashiki saying it's unprofessional," Pearson said.
"They're really sending signals that you don't belong here."
Jones and Pearson can return to their seats if they are appointed by officials in their respective counties.
The Metro Council of Nashville scheduled a special meeting for April 10 to fill Jones's seat.
Nashville Mayor John Cooper said that he thinks the council will send Jones "right back to continue serving his constituents."
Shelby County Commission Chairman Mickell Lowery said on April 6 that the panel will hold a meeting this week to consider reappointing Pearson to his seat in the Democratic stronghold that's anchored by Memphis.
"We will continue to fight for our constituents. This attack against us is hurting all people in our state," Jones said. "Even though it is disproportionately affecting black and brown communities, this is hurting poor white people. Their attack on democracy hurts all of us."
Pearson said, "I would be honored to accept the appointment of the Shelby County Commission and to run in a special election.
"This is what folks really have to realize: the power structure in the state of Tennessee is always wielding against the minority party and people."
Meanwhile, the state GOP defended the decision to expel Jones and Pearson.
"Unprecedented events yield unprecedented consequences," the group said in a statement. "Unfortunately, we were obligated to levy unprecedented consequences on those members today. Our focus continues to be on the six innocent lives that were brutally taken last week at the Covenant School, not those who have chosen to make this tragedy about themselves.
"If elected to come back and serve their constituents in the Tennessee House of Representatives, we hope they will act as the thousands who have come before them, with respect to our institution, their fellow colleagues, and the seat that they hold. We look forward to continuing to defend the voices of all Tennesseans."