Attorney general Merrick Garland said the justice department will ask the supreme court to review an appeals court decision that preserved access to abortion medication mifepristone but placed new restrictions on its use and distribution.
"The Justice Department strongly disagrees with the Fifth Circuit's decision in Alliance for Hippocratic Medicine v. FDA to deny in part our request for a stay pending appeal," Garland said in a statement. "We will be seeking emergency relief from the Supreme Court to defend the FDA's scientific judgment and protect Americans' access to safe and effective reproductive care."
Last week, conservative federal judge Matthew Kacsmaryk had sided with abortion foes and revoked the Food and Drug Administration's 2000 approval of the drug, in a ruling that was to take effect this Friday. The justice department appealed, and late yesterday the fifth circuit court of appeals in New Orleans blocked the deauthorization. However, the judges allowed to go into effect portions of Kacsmaryk's ruling that required mifepristone be prescribed during in-person doctor's appointments and limiting its use to the first seven weeks of pregnancy from its current 10 weeks.
The Biden administration will fight to preserve access to abortion medication mifepristone, with attorney general Merrick Garland saying the justice department would appeal to the supreme court to ensure its availability and vice-president Kamala Harris calling the effort to get it off shelves "the next step to a nationwide abortion ban." Meanwhile, in Tennessee, ousted Democratic lawmaker Justin Pearson was sworn back in to the state House of Representatives, where he vowed to protect the rights of minorities.
Here's what else happened today: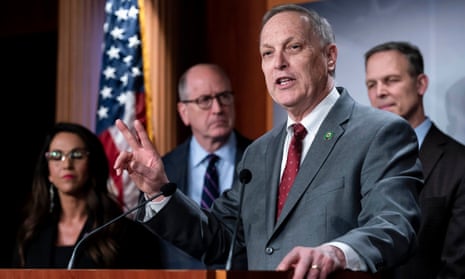 Rightwing House Republican Andy Biggs has introduced two pieces of legislation intended to frustrate Manhattan district attorney Alvin Bragg's prosecution of Donald Trump.
The first, called the Accountability for Lawless Violence In Our Neighborhoods (ALVIN) Act, "prohibits federal funds from being awarded to the Manhattan District Attorney's Office and requires the Office to repay federal funds granted after January 1, 2022," according to a press release from the Arizona lawmaker's office.
The second stops state and local law enforcement from using money obtained through asset forfeitures for criminals prosecutions of presidents, vice-presidents and presidential candidates.
"This weaponized prosecutor's office has spent thousands of federal taxpayer dollars to subsidize this political indictment and is demanding millions more in federal grants," Biggs said in a statement.
"It's disturbing to see District Attorney Bragg waste federal resources for political purposes rather than addressing the serious crime in his city. As a member of the House Judiciary and Oversight & Accountability Committees, and with an almost insurmountable national debt that exceeds $31 trillion, the nation simply cannot afford to support Mr. Bragg's politicization of the criminal justice system."
House Republicans have rushed to Trump's defense since his indictment late last month, demanding documents and testimony from Bragg and sending a subpoena demanding testimony from Mark Pomerantz, a former prosecutor in Bragg's office who wrote a book detailing why believes there's a criminal case against Trump. Earlier this week, Bragg sued the chair of the House judiciary committee Jim Jordan to quash the subpoena against Pomerantz.
US authorities this afternoon arrested a young airman on suspicion of leaking the secret Pentagon materials that have spread on social media over the past days. Here's the latest:
A 21-year-old US air national guardsman suspected of leaking highly classified Pentagon files has been arrested in Massachusetts, the US attorney general, Merrick Garland confirmed on Thursday.
Jack Teixeira is believed to have led Thug Shaker Central, an online group where about 20 to 30 people shared their love of guns, racist memes and video games, the New York reported, citing interviews and documents it reviewed.
Garland told reporters that Texeira was arrested "without incident" and would be arraigned later on Thursday in a Massachusetts federal court.
The leaked documents, which were disseminated widely online, have laid bare secrets about Ukraine's preparations for a spring counteroffensive, US spying on allies, such as South Korea and Israel, and the tensions between Washington and allied capitals over arming Kyiv.
Conservative supreme court justice Clarence Thomas sold three real estate properties to Republican megadonor Harlan Crow, but didn't report the deal on a disclosure form in a potential breach of federal law, ProPublica reports.
The revelation comes from the second article the investigative news site has published on the links between Crow and Thomas, one of the most ardent rightwing justices on the supreme court. Last week, ProPublica reported that Thomas had accepted luxury trips from Crow for years, but didn't include the travel on his disclosure forms.
Thomas has defended his involvement with Crow, but Senate Democrats have urged chief justice of the supreme court John Roberts to investigate Thomas's relationship with the megadonor, while vowing to hold a hearing into the matter.
Here's more from ProPublica's latest story:
The transaction marks the first known instance of money flowing from the Republican megadonor to the Supreme Court justice. The Crow company bought the properties for $133,363 from three co-owners — Thomas, his mother and the family of Thomas' late brother, according to a state tax document and a deed dated Oct. 15, 2014, filed at the Chatham County courthouse.

The purchase put Crow in an unusual position: He now owned the house where the justice's elderly mother was living. Soon after the sale was completed, contractors began work on tens of thousands of dollars of improvements on the two-bedroom, one-bathroom home, which looks out onto a patch of orange trees. The renovations included a carport, a repaired roof and a new fence and gates, according to city permit records and blueprints.

A federal disclosure law passed after Watergate requires justices and other officials to disclose the details of most real estate sales over $1,000. Thomas never disclosed his sale of the Savannah properties. That appears to be a violation of the law, four ethics law experts told ProPublica.

The disclosure form Thomas filed for that year also had a space to report the identity of the buyer in any private transaction, such as a real estate deal. That space is blank.

"He needed to report his interest in the sale," said Virginia Canter, a former government ethics lawyer now at the watchdog group CREW. "Given the role Crow has played in subsidizing the lifestyle of Thomas and his wife, you have to wonder if this was an effort to put cash in their pockets."

Thomas did not respond to detailed questions for this story.
The top Senate Republican Mitch McConnell said he would return to work next week, more than a month after he was hospitalized following a fall:
As a number of prominent Republicans prepare to gather at the National Rifle Association's annual meeting this weekend, Democratic leaders warned that the GOP will suffer electoral consequences for their refusal to back gun safety laws.
Senator Chris Murphy, a Democrat of Connecticut, noted that congressional Republicans helped pass the Bipartisan Safer Communities Act last year, marking the first time in nearly 30 years that the US enacted a major gun safety bill at the federal level.
Speaking to reporters today on a press call organized by the Democratic National Committee, Murphy lamented that Republicans who support gun safety are "the exception, not the rule" in their party.
"I want Republicans to join with the rest of us and work to build a bipartisan majority behind common sense gun laws, but it appears that they're not ready for that," Murphy said.
"As the Republican Party continues to give the middle finger to kids and kids' fears for their safety, they are just asking for an electoral tidal wave."
Democratic leaders denounced Republican inaction on gun safety ahead of the National Rifle Association's annual meeting, which kicks off tomorrow in Indianapolis, Indiana.
"Every Republican that's thrown their hat in the ring to run for president is showing up this weekend to pledge their undying loyalty to the NRA and the gun lobby," Senator Chris Murphy, a Democrat of Connecticut, said today on a press call organized by the Democratic National Committee.
Former President Donald Trump is scheduled to speak at the NRA conference, and Florida Governor Ron DeSantis, who is expected to launch his own presidential bid in the coming weeks, will appear at the event via video.
The NRA's meeting comes just weeks after a shooter attacked Covenant School in Nashville, Tennessee, killing three children and three adults.
"Our kids are being hunted," Murphy said. "And the NRA's business model is to give aid to the hunters."
If you've been wondering what Joe Biden is up to today, the answer is addressing a joint session of the Irish parliament, where he's calling for a permanent end to political violence.
We have a live blog following the president's visit to Ireland as it happens, which you can read here:
California's state senators relocated to a secure, remote facility after a "credible threat" forced the Assembly to abandon its Thursday session.
An email from senate secretary Erika Contreras told lawmakers: "The California Highway Patrol (CHP) has notified the senate of a threat they consider to be credible involving the Capitol.
"The CHP and security partners are present in higher numbers in the Capitol area, and are alert of the situation."
Contreras said the session was moved to another state building nearby. Staff were told to stay home or remain in their offices.
Ron DeSantis is playing catch-up with the flooding emergency in Florida's Broward county, a "one in a thousand" weather event that left large areas under water following an overnight deluge.
The Republican governor spent the morning in Ohio on his nationwide book tour. At a lunchtime press conference/update, the mayor of Fort Lauderdale, Dean Trantalis, said he had spoken with the White House but not the governor.
"Governor DeSantis has not yet called. I'm not sure what's going on, but I'm sure he's very interested in what's going on here," he said.
Bryan Griffin, DeSantis's press secretary, broke cover on Twitter shortly after midday Thursday, linking to a Florida department of emergency management bulletin on the flooding.
The governor's schedule for the day was sent out at 1.22pm, showing afternoon calls were set with state emergency management director Kevin Guthrie and Broward county commissioner Michael Udine.
Read more:
A supporter of Donald Trump who joined the invasion of US Capitol on January 6 2021, and expressed admiration for Adolf Hitler, was sentenced Thursday to three years in prison on firearms charges.
The Associated Press reported that the sentence Alexandria district court judge Michael Nachmanoff imposed on former navy reservist Hatchet Speed was five months less than the term sought by federal prosecutors, and much longer than the one-year term sought by Speed's lawyers.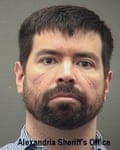 Speed, 41, of McLean, is a military veteran who held top-secret clearances while working for a defense contractor.
The gun charges against him in Virginia are separate from charges brought in Washington DC for obstructing an official proceeding, namely the January 6 joint session of Congress to certify Joe Biden's defeat of Trump.
Speed will be sentenced on those charges next month and could receive up to six additional years in prison.
In conversations with an FBI undercover agent last year, Speed expressed admiration for Hitler and domestic terrorists in the US. He also made antisemitic comments, proposed targeting Jewish people with acts of violence, and collected neo-Nazi memorabilia.
The Biden administration will fight to preserve access to abortion medication mifepristone, with attorney general Merrick Garland saying the justice department would appeal to the supreme court to ensure its availability and vice-president Kamala Harris calling the effort to get it off shelves "the next step to a nationwide abortion ban." Meanwhile, in Tennessee, ousted Democratic lawmaker Justin Pearson was sworn back in to the state House of Representatives, where he vowed to protect the rights of minorities.
Here's what else has happened today so far:
Tim Scott, the Republican senator who seems close to announcing a presidential run, said he would support a federal ban on abortions after 20 weeks.

Donald Trump is back in New York City to appear for a deposition as part of state attorney general Letitia James's fraud lawsuit against him and his children.

US investigators are closing in on the leaker of Pentagon documents that reveal Washington's secret assessments of the war in Ukraine, among other secrets.
Kamala Harris says the White House "will continue fighting" to protect abortion rights while calling the lawsuit that seeks to ban mifepristone "the next step to a nationwide abortion ban."
In a statement, she the vice-president also warned that if allowed to proceed, the decision could jeopardize access to medication intended to treat a variety of ailments.
Here's the full text of Harris's statement:
Last night, the Fifth Circuit issued a decision which invalidates the scientific, independent judgment of the FDA about when and how a medicine is available to Americans. The Justice Department has already announced that they are seeking emergency relief from the Supreme Court.

More than 20 years ago, the FDA approved medication abortion as safe and effective for the American people. Last week, a Texas district court ruled to block access to this medication in every state in the country.

The Fifth Circuit's decision—just like the district court's—second-guesses the agency's medical experts. If this decision stands, no medication—from chemotherapy drugs, to asthma medicine, to blood pressure pills, to insulin—would be safe from attacks. This decision threatens the rights of Americans across the country, who can look in their medicine cabinets and find medication prescribed by a doctor because the FDA engaged in a process to determine the efficacy and safety of that medication.

This lawsuit is the next step to a nationwide abortion ban. The decision severely limits access to mifepristone, standing between doctors and their patients. President Biden and our Administration remain firmly committed to protecting access to medication abortion, as the President and I have made clear since the day of the Supreme Court's decision in Dobbs.

There is a reproductive health care crisis in America. Our Administration will continue fighting to protect women's health and the right to make decisions about one's own body.
Justin Pearson, a Black Democratic lawmaker who was expelled from the Tennessee House of Representatives by its Republican majority last week, was sworn back into office today.
Pearson was removed from his seat representing Memphis after he joined in a protest on the House floor calling for tighter gun control with Justin Jones, who represents Nashville. Local authorities in that city voted reappointed Jones back into his seat earlier this week, while the Shelby County Commissioners did the same for Pearson yesterday.
In a speech after his swearing in, Pearson vowed "We will never quit" in fighting to protect rights. Here's a look at what he said: