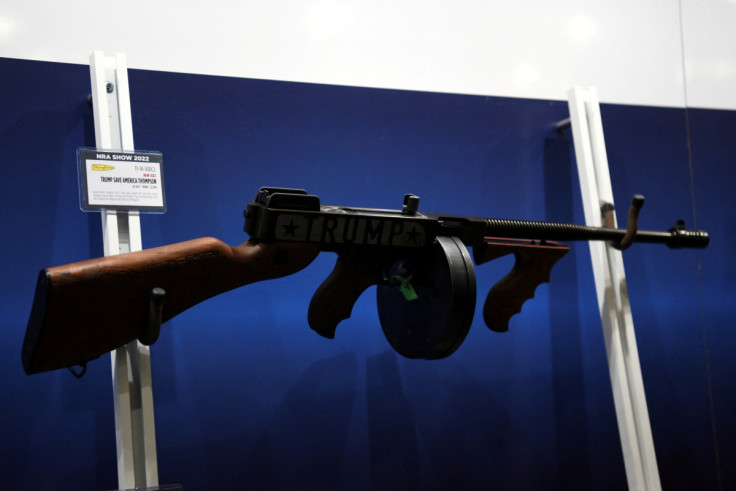 White House Republican hopefuls including Donald Trump descend on Indianapolis for the annual NRA conference on Friday, highlighting the gun lobby's continued political potency even as the U.S. reels from the latest spate of mass shootings.
The conference of the National Rifle Association, the country's leading gun-rights advocacy group, is taking place at a key moment in the Republican presidential campaign. A number of hopefuls, including Trump's closest rival, Florida Governor Ron DeSantis, are deliberating if and when to jump into the 2024 race to challenge the former president for the nomination.
Trump, whom the NRA enthusiastically backed in 2016 before he was even officially declared the Republican presidential candidate, will address gun aficionados in person on Friday.
His former vice president, Mike Pence, seen as another presidential hopeful, will also speak on Friday. DeSantis, and other White House hopefuls, Nikki Haley and Senator Tim Scott, will do so by video message.
The parade of top-tier politicians shows that the NRA event remains a rite of passage for Republican hopefuls, despite the group itself being riven by corruption accusations, legal problems and media reports of dwindling membership.
"The NRA is still the grand-daddy of the guns lobby. The NRA-endorsed candidate in a Republican primary is very important," said Richard Feldman, a member and former NRA lobbyist.
Feldman said he expected the NRA to eventually endorse Trump because its most vocal membership base – which draws heavily from a white, rural and male population subset – remain supportive of him.
While in office Trump was broadly supportive of gun rights, but angered some activists in 2018 by banning the high-power gun attachments used in a 2017 Las Vegas shooting in which dozens of people were killed.
Trump's campaign website says he will "always defend your Second Amendment right to keep and bear arms," but does not provide detailed policy proposals.
Even if the NRA does endorse Trump, the group, faced with a major lawsuit in New York and falling revenue according to some reports, is unlikely to provide the same financial support as in past elections.
Spending has already decreased: the NRA spent some $54.4 million during the 2016 election, including $31.2 million for Trump's campaign, but that fell to $29.1 million in the 2020 cycle, the bulk of it for Trump's campaign, according to OpenSecrets, a nonpartisan research organization that tracks U.S. advocacy dollars.
SPIKE IN MASS SHOOTINGS
The gun rights lobby has also come under pressure from the at least 149 mass shootings around the country since the start of the year.
In just the last three weeks, two mass shootings killed 11 people, first at a school in Nashville and then at a bank in Louisville. In both cases, the shooters purchased their weapons legally.
"Republican primary hopefuls are descending on Indianapolis to pander to the NRA's extreme leaders for support that will be poison in a general election," said Shannon Watts, founder of gun control group Moms Demand Action.
The NRA did not respond to requests for comment.
DeSantis, who is expected to declare his run in coming months, will likely extol a recent Florida law allowing residents to carry a concealed firearm without a permit.
He will likely be hoping to strengthen his gun bona fides after the Washington Post in February reported that he wanted weapons banned from his victory celebration in Tampa last year, irking gun rights supporters.
For some fervent NRA members, however, neither Trump nor DeSantis are committed enough to the cause.
Alan Rice, a firearms instructor in New Hampshire and an NRA member who will be at the convention, voted for Trump in 2016 but not in 2020, and accuses the men of merely paying lip service to gun rights.
"DeSantis is a great pretender. Trump is a New Yorker. I believe people born and bred in New York are raised to hate firearms," said Rice, who describes himself as a "single-issue voter."
He is hoping New Hampshire's governor, Chris Sununu – who is also addressing the NRA on Friday – will run.