Florida Gov. Ron DeSantis has been called "Dumbo" by a former chairman of the Republican National Committee after floating the idea of building a prison near Walt Disney World in Orlando.
During a press conference on Monday, DeSantis announced legislation that will use the regulatory powers of Florida government to exert unprecedented oversight on the park resort.
DeSantis' news was the latest escalation in a feud the governor started in 2022 when Disney publicly opposed the state's so-called "Don't Say Gay" legislation—this barred instruction on sexual orientation and gender identity in kindergarten through third grade.
In response, Florida lawmakers revoked Disney's control of the Reedy Creek Improvement District. This had allowed the company to run as its own self-governing authority in the state for decades.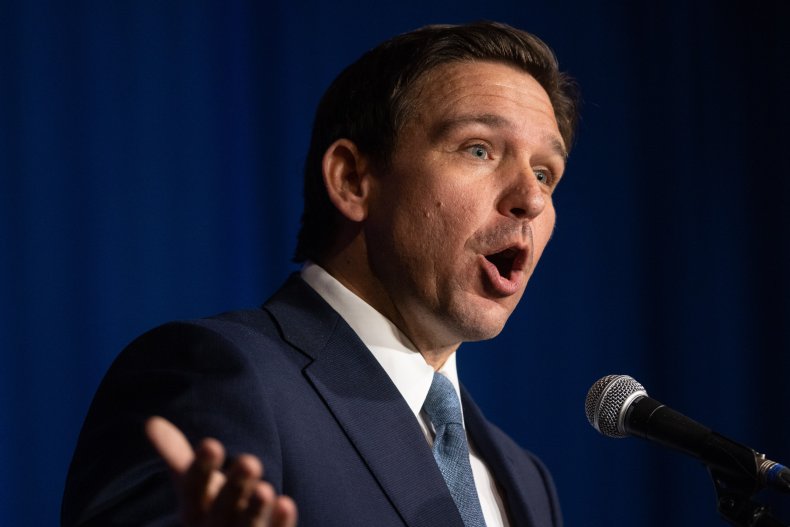 DeSantis, widely expected to announce a 2024 White House bid in the coming months, then appointed a five-person board to replace the one previously controlled by Disney. However, it emerged in March that the outgoing board signed an agreement that strips the new one of most of its powers.
During Monday's news conference, DeSantis floated suggestions for how the state-controlled board could further develop land not owned by Disney in the district.
"Quite frankly, I wasn't even thinking about that land. This was not something that was really important one way or another. We just wanted them to live under the same rules, pay the debt, pay the taxes, all that stuff," DeSantis said.
"Come to think of it, now people are like, 'What should we do with this land?' People have said, 'Maybe create a state park?' 'Maybe try to do more amusement parks?' Someone even said, like, 'Maybe you need another state prison?" DeSantis added. "Who knows? I just think that the possibilities are endless, and so that is now going to be analyzed to see what would make the most sense."
DeSantis' comments sparked a response from Michael Steele, who was chair of the Republican National Committee between 2009 and 2011.
"So you want to 'analyze' putting a state prison next to Disney?" Steele wrote in a tweet.
"When families stop visiting & Disney's $75.2B economic impact & $5.8B tax revenues drop; its 75K employees face layoffs & 463K jobs are also imperiled what would your analytics say caused that to happen? WTF, Dumbo."
Newsweek has emailed Steele, DeSantis' office and Disney for comment.
Others agreed with Steele. Jon Cooper, former national finance chair of Draft Biden 2016, tweeted that the longer DeSantis "prolongs his petty squabble with @WaltDisneyWorld — one of the largest single drivers of Florida's economy — the smaller and weaker it makes him look."
Cooper added that it is "only solidifying the public perception that he's self-centered, small-minded, short-sighted and vindictive. Not a good look for Ronnie."
Carlos Guillermo Smith, a former member of the Florida House of Representatives, tweeted: "Full court Ron DeSantis press conference with GOP lawmakers + cabinet members announcing petty threats to regulate Disney's monorail, build state prisons next to theme parks, and weaponize state government against Ronnie's political enemies. Is there NO END to this foolishness?"
Nikki Fried, the chair of the Florida Democratic Party, wrote: "Ron DeSantis just threatened to build a state prison next to Disney World. All because they don't hate gay people."
Others came to DeSantis' defense. Dana Loesch, a radio host and former spokesperson for the National Rifle Association, tweeted that DeSantis had made "a joke."
"I love that the 'reversing unfair Democrat special treatment to preferred corporations' is a 'big government' accusation amongst the flaccid right," Loesch added.
Ian Miles Cheong wrote: "DeSantis jokingly threatens to open a state prison next to Disney World. It's upsetting the libs."