You're in the market for an inside the waistband (IWB) concealment holster, and you'd like the one that you can tuck your shirt into to aid concealment. Now you're asking yourself: what's the best tuckable IWB holster?
Look no further, because we're going to break them down for you and give you the pros and cons of several brands of tuckable concealment holsters.
Tuckable IWB Holster Quick Pick
Our choice for the best tuckable IWB holster is the Cloak Tuck 3.5 by Alien Gear. This is a hybrid leather and polymer holster with interchangeable skins.
It offers adjustable cant (carry angle), ride height, and retention, and you can tuck your shirt around it. Alien Gear offers a three-fold guarantee, including free skin swaps for life.
Get Great Guns and Ammo Deals!
---
What to Consider Before Buying a Tuckable IWB Holster
There are a number of factors you need to consider before you decide on a holster.
Local Carry Regulations
Before carrying your firearm concealed, do your research on your state, county, and local gun carry regulations. Also remember that your laws may be different from neighboring areas, so if you cross boundary lines while traveling to work, you need to be aware of those regulations as well. It's your responsibility to stay up-to-date on gun carry regulations.
Wardrobe
Many people who routinely carry concealed, especially using an inside the waistband (IWB) holster, will recommend getting pants a size or two larger than you normally wear. This will give you added room for carrying IWB holsters, and make it more comfortable for you.
Even if you get a tuckable IWB holster, you might consider adding some t-shirts with longer tails or a button-up shirt to your normal wardrobe. A button-up shirt can be worn open over a t-shirt, but will give you added concealment.
Your Dominant Hand
This is important to consider because most holsters are not ambidextrous, or interchangeable for both right- and left-handed shooters. Use caution when ordering, especially online, to guarantee you get the correct holster for your dominant hand.
Your Model Pistol
Several of the tuckable holsters on the market are available for many different firearms. Make sure to select the correct one, as these holsters are molded specifically for the pistol. If you're not sure yours will fit, visit the manufacturer's website, rather than looking at the Amazon or eBay listings.
Also consider additional features your firearm may have. Laser sights, raised sights, or accessory rails are often larger than the stock weapon, so if you have any of these accessories installed, make sure to find out if your pistol will fit. The best way to find a holster for firearms with accessories is to consult the manufacturer.
Holster Features
Tuckable holsters offer a wide range of features, so consider each one and decide if they're important to you. These features can include:
Adjustable cant (carry angle): this feature is customizable to adjust the angle the firearm sits in the holster
Adjustable retention: many of these holsters don't have retention straps, so being able to adjust how tight the pistol is in the holster is a good option.
Adjustable ride height: this allows you to change how high or deep the holster rides in your waistline.
Warranty: a manufacturer's warranty is one feature you may decide is important to you.
Interchangeable holsters: this might be important if you have more than one pistol you carry on a regular basis. You can use the same holster backing and easily change the shells.
---
Specific Tuckable Holster Models – Top Choices
Now that we've discussed some of the basic features of this type of holster, let's look at specific brands and break them down for you.
The leather portion has a spring steel and ballistic nylon insert to add stiffness, and a backing of neoprene for user comfort. This holster will not require any of the usual break-in time of other leather holsters.
The 'Alien Skin' is polymer and molded to specific firearms, guaranteeing a precise and secure fit. You'll get a tough, durable holster with a sight channel to protect your pistol's all-important sights.
But, they're not usually designed for aftermarket sights or other accessories. Check with the manufacturer before buying if you have added features on your firearm.
The Cloak Tuck 3.5 comes with customizable options. One of these is for retention. The holster offers passive retention, so you'll get an audible 'click' when the firearm is safely holstered. But, you can adjust this tension to get the perfect draw.
You'll also be able to adjust the holster for cant (carry angle) and ride height, or the depth the holster rides inside your pants. These adjustments can make it incredibly comfortable to carry your gun.
Alien Gear offers a lifetime guarantee on its holsters, and a 30-day trial period. They also sell the 'Alien Skins' separately, so you can carry more than one firearm using this hybrid holster.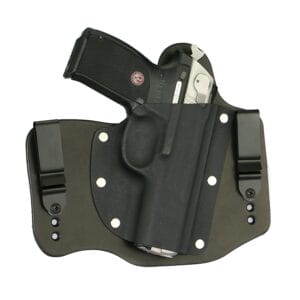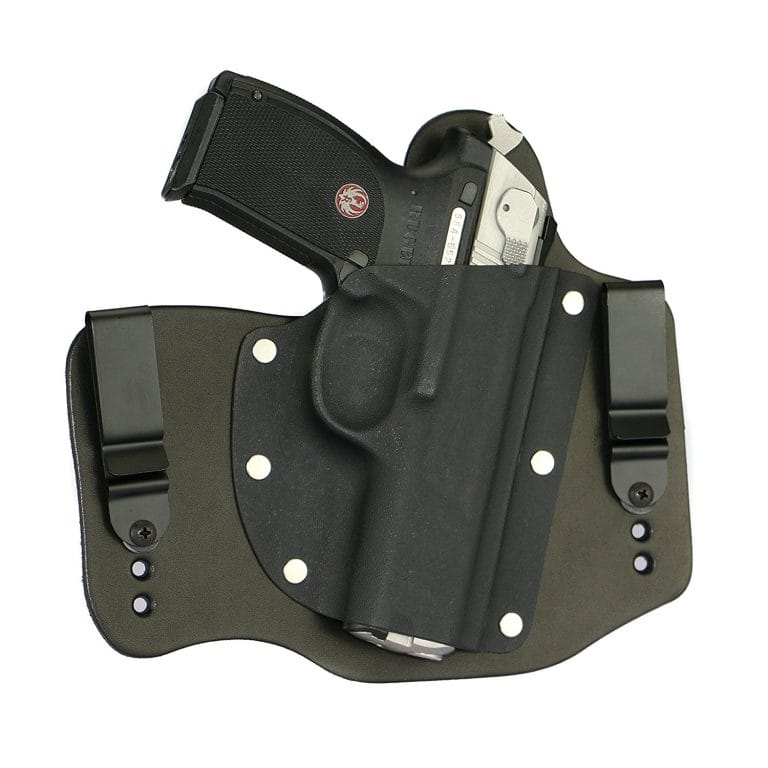 This is a hybrid leather and Kydex holster. The backing is made of leather and is available in black or tan.
The holster is made of Kydex polymer and is available in a wide range of colors, some of them at an additional cost.
The clips on the Hybrid Holster are available in metal, Kydex, or nylon; the last two are an additional charge.
It's adjustable for cant (carry angle) and ride height. An optional comfort pad can be added to the back for comfort.
For smaller-framed pistols, the leather backing will be slightly smaller. FoxX calls this 'micro leather', and when you select your firearm from their list, your smaller pistol will automatically pull up this micro leather option.
They do offer holsters for certain firearms with Crimson Trace or other laser options, so contact the manufacturer to see if your extra accessories will fit their holster. FoxX offers a 14-day 'try it' policy, so if you're not happy with the holster, you can get a full refund within 14 days.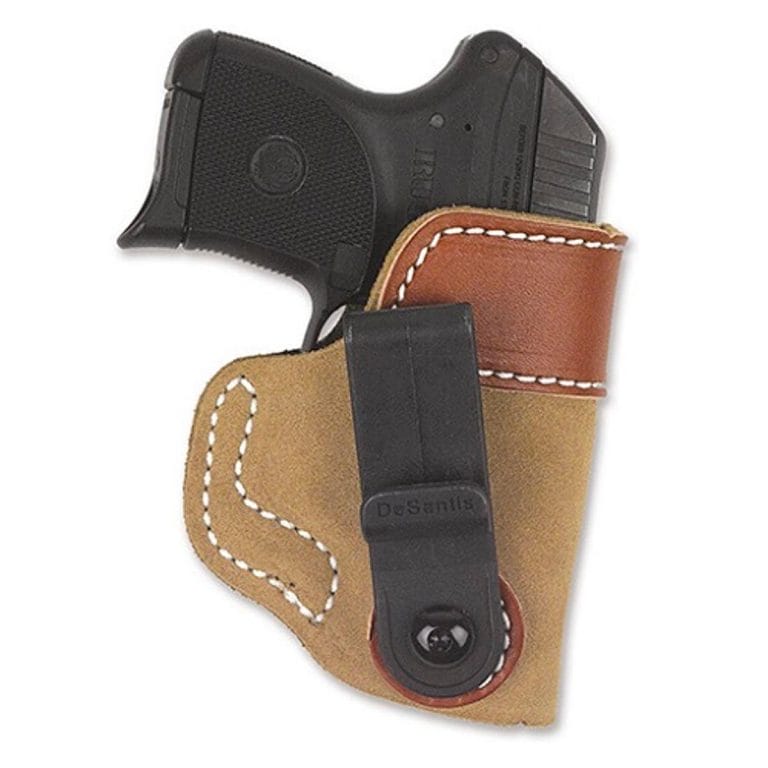 DeSantis offers a variety of tuckable holster models. These include:
With this variety of holsters comes a wide selection of user-customizable features. Some of DeSantis' tuckable holsters also come in nylon, leather, or leather/polymer hybrid.
Holsters With Adjustable Cant and/or Adjustable Ride Height

These holsters have adjustable cant (*), adjustable ride height (#) or both (%).
The Invader %

Slim-Tuk #

The Outback #

The Invader #

Versa-Tuk %

Vanquisher %

Intruder %

Sof-Tuk *

Dual Carry II %

Tuck This II %

Pocket Tuk *
Keep in mind, these holsters are firearm-specific, so use caution when ordering one to ensure you get the correct one.
Most of these aren't ambidextrous either (the Slim-Tuk is the exception as it can be easily switched from side to side), so specify your dominant hand when you order one of these holsters.
These holsters will range in price depending on your firearm and the features you choose. Many of them have optional J-clips to replace the C-clips that come with them.
Comp-Tac holsters are similar to the FoxX or Alien Gear hybrid holsters.
The Spartan is offered in a wide range of firearm-specific shells, and switching out shells for different model pistols is possible. This holster is adjustable for both cant (carry angle) and ride height.
The Spartan has three different clip types to choose from. Comp-Tac offers a one-year warranty on their holsters.
---
Final Thoughts on Tuckable IWB Holsters
If you're looking to carry concealed, you might be considering an inside the waistband (IWB) tuckable holster.
This is a great way to responsibly carry a concealed weapon under your clothing. Make sure to check local gun carry regulations for your area, including cities or counties you might travel through during the course of a day.
Our pick for the best in tuckable holsters is the Cloak Tuck 3.5 by Alien Gear. This leather and polymer hybrid holster offers the best features for the price, including adjustable retention, cant (carry angle), and ride height.
Alien Gear has a lifetime warranty on holsters. They also give you free shell swaps for life, so even if you decide to carry a different firearm, you have the option to use the same holster.
Recommended Reading
Glock 19 Concealed Carry IWB Holsters
1911 IWB Concealed Carry Holster
Best IWB Concealed Holster For Glock 26
Glock 23 Concealed Carry IWB Holster
IWB Holster Choices For The Kel Tec P-11