The party was on at a gathering of unsung Republican heavyweights, and I was in search of the armadillo racing. The booze was flowing: Open bars numbered in the double digits, plus metal bathtubs teemed with beer on ice. Cover bands played and DJs spun. There was line dancing and trick ropers, twirling lassos and mechanical bulls, bucking riders and stilt-walkers.
And there were car dealers—thousands of them. So many gray blazers atop so many pairs of jeans, so many corporate logos embossed on so many fleece vests. So many, many men. This year's blowout was in Dallas and the invite called for "Western duds," so there were omni gallon hats and dinner-plate belt buckles too.
This was opening night of the NADA Show, the annual convention of the National Automobile Dealers Association, one of the most powerful trade organizations representing one of the richest professions in America, and there was much to celebrate.
The years since COVID hit had been some of the industry's best ever. Supply-chain issues had sent prices skyrocketing. New car prices were up; used car prices were up even more. "This has been an unexpected bonanza for new car dealers," George Hoffer, professor emeritus of transportation economics at Virginia Commonwealth University, told Time late last year. Only a few months prior, the research firm Haig Partners clocked average gross profit for dealers at 180 percent over 2019 levels.
Really, the past hundred years had been great. Auto dealers are one of the five most common professions among the top 0.1 percent of American earners. Car dealers, gas station owners, and building contractors, it turns out, make up the majority of the country's 140,000 Americans who earn more than $1.58 million per year.* Crunching numbers from the U.S. Census Bureau, data scientist and author Seth Stephens-Davidowitz found that over 20 percent of car dealerships in the U.S. have an owner banking more than $1.5 million per year.
And car dealers are not only one of the richest demographics in the United States. They're also one of the most organized political factions—a conservative imperium giving millions of dollars to politicians at local, state, and national levels. They lobby through NADA, the organization staging the weekend's festivities, and donate to Republicans at a rate of 6-to-1. Through those efforts, they've managed to write and rewrite laws to protect dealers and sponsor sympathetic politicians in all 50 states. All of which meant that this year, presidential hopeful Nikki Haley and Fox News darling Greg Gutfeld, among others, had made the pilgrimage to kiss the key ring.
But just as times are strange for Republicans, they are for car dealers too, and the event this year had a decadent and desperate energy. Opening night featured a concert by country star Brad Paisley. He was set to take the stage in mere minutes, and I still hadn't found the armadillos. I'd sidled through the "speak-easy," happened upon the blackjack tables, and even run smack into a male dancer standing atop a saddle swinging 4 feet off the ground. But the small mammal racetrack eluded me.
I pushed through crowded hallways, my path lit by the luminous logo of prodigious subprime lender Ally Bank. I rounded a corner, past a room full of ax throwers, and finally came face-to-face with a donkey. He was freighted on both sides by coolers full of beer. Dealers lined up to take pictures with him. I asked an event staffer where the armadillos were. They'd been canceled at the last minute, she told me: The beer burro was the live-animal entertainment replacement. Cheers burst in from the main hall; Paisley hit the stage.
I retreated to a side room, where a man named Andrew—bald, besotted—told me it was his seventh NADA convention. So far this one was tame compared with last year's in Las Vegas, he said, chewing on a pork slider from a nearby buffet table and swallowing the finer syllables of his words. "You know why they couldn't have it in Vegas this year?" he asked. "Too many divorces." Behind him, two men in vests went up and down on a seesaw in the shape of a mustache, each sitting atop one curl of the handlebar.
I asked Andrew what he thought of these halcyon days. "The last two years, cars have basically sold themselves," he said with a sigh. "There's a fucking reckoning coming."
In many ways, you can't understand U.S. conservatism without understanding the car dealer—that middlemensch of American capitalism, selling a product he doesn't make at a fat-enough markup to become fabulously rich and politically powerful. And dealers who have lodged themselves in the middle of Republican politics find themselves at a crossroads, just like the party they patronize. Underneath the froth, and the humidity, there was anxiety in the air. I journeyed to the NADA convention to hear the dealers' vision of the future. What I found is a stark prescription for what Republicans want now.
When the first car dealership opened in 1898, in Detroit, it was seen as a convenience for cash-strapped manufacturers, who were overwhelmed just by producing the cars. They needed a means to reach customers without having to build their own sales networks. A class of middlemen sprang up. Car dealers quickly became pioneers of influence, concocting new and astonishing breakthroughs in the very American alchemy of converting riches to political sway.
As the automobile industry flourished, so did the dealership model—but the American entrance into World War I threatened to interrupt that ascent. So, in 1917, a group of 30 Chicago dealers went before Congress to argue that cars shouldn't be classified as luxuries by the tax code. The luxury distinction would have allowed car-manufacturing facilities to be converted to use for wartime production. That would have been fine for manufacturers, which would have continued making money manufacturing, but disastrous for car dealers, who couldn't just sell tanks.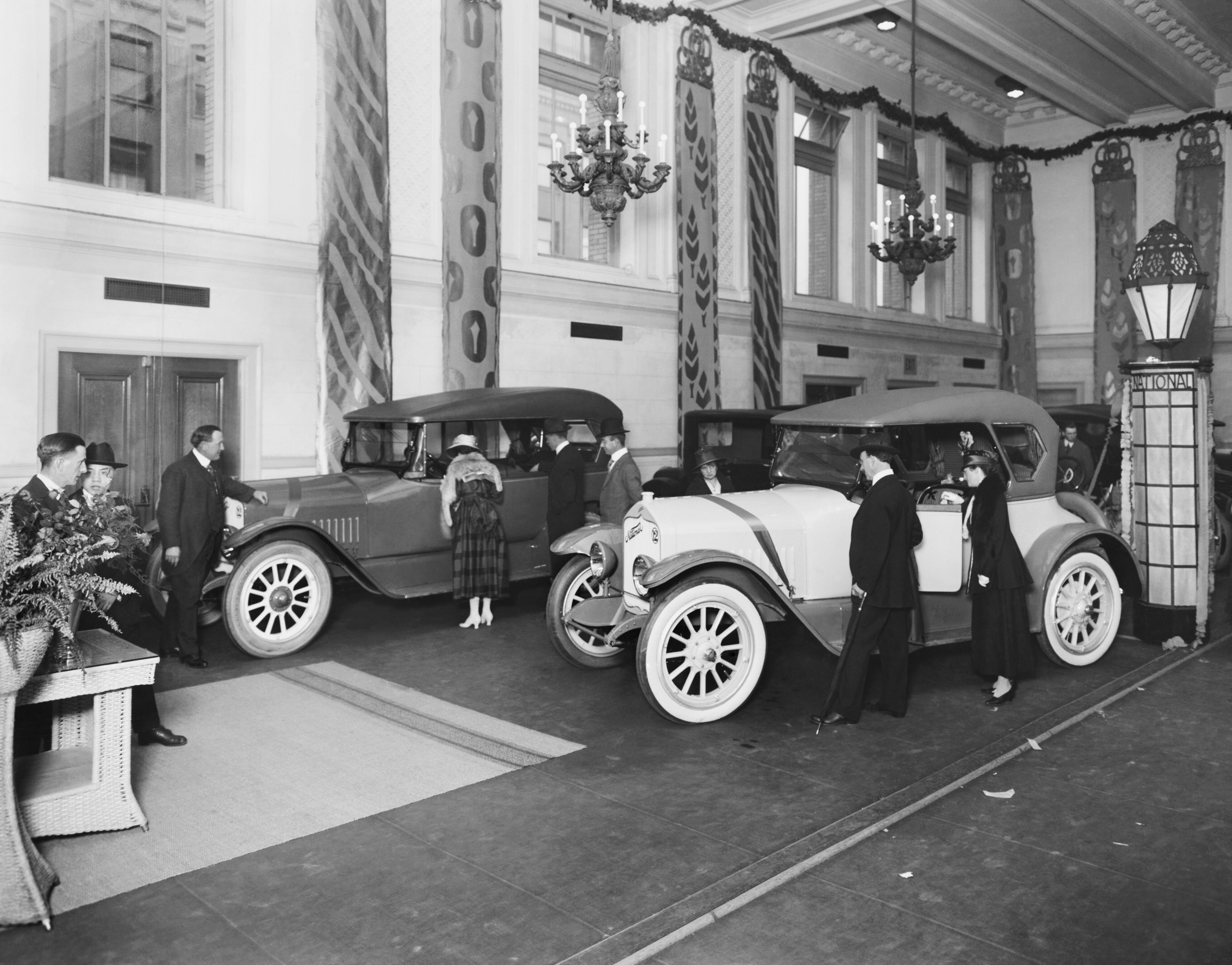 The dealers won the argument and then some, leaving Washington with a 40 percent cut in the "luxury tax," which was then being levied on car sales. With that, the National Automobile Dealers Association was born.
That first taste of triumph only whetted the appetite. By the 1930s, with another war effort in the works, dealers went state by state. "At that time, there was lots of attention being paid to small business as having inherent virtue and the need to protect mom-and-pop shops," Daniel Crane, a professor at the University of Michigan Law School, told me. "They embraced that story, and were extremely successful at getting legislatures in all 50 states to strictly regulate how cars were sold." In 17 states, it is outright illegal for car manufacturers to sell cars at all.
The "mom-and-pop" facade of the postwar period gave way to multibillion-dollar, intergenerational dealership empires. As of 2021, the top 10 dealership groups in the U.S. had annual revenues around $100 billion, more than any company that actually makes cars.* The NADA became one of the most influential lobbying entities in Washington, with 16,000 dues-paying businesses spanning 32,500 franchises. Soon enough, a stop at the annual NADA convention became routine for presidential hopefuls and even presidents. Lyndon B. Johnson, Ronald Reagan, and Hillary Clinton all attended ahead of presidential runs; Bill Clinton and both Bushes came after they left the White House.
By the time car salesmen had won their reputation as the very least scrupulous of business practitioners, dealers had secured such an astounding array of political protections via their lobbying outfit that no countervailing force—economists, car manufacturers, civil rights groups, environmentalists, or the Koch brothers—has been able to thwart them. A survey done in 2016 by one of their own trade publications found that 87 percent of Americans disliked the experience of buying a car at a dealership. So what? You don't have to be well liked if you're powerful.
Now car dealers are one of the most important secular forces in American conservatism, having taken a huge swath of the political system hostage. They spent a record $7 million on federal lobbying in 2022, far more than the National Rifle Association, and $25 million in 2020 just on federal elections, mostly to Republicans. The NADA PAC kicked in another $5 million. That's a small percentage of the operation: Dealers mainline money to state- and local-level GOPs as well. They often play an outsize role in communities, buying up local ad space, sponsoring local sports teams, and strengthening a social network that can be very useful to political campaigns. "There's a dealer in every district, which is why their power is so diffuse. They're not concentrated in any one place; they're spread out everywhere, all over the country," Crane said. Although dealers are maligned as parasites, their relationship to the GOP is pure symbiosis: Republicans need their money and networks, and dealers need politicians to protect them from repealing the laws that keep the money coming in.
The dealers need that protection now more than ever. Recent legislation from the Biden administration, namely the Bipartisan Infrastructure bill and the Inflation Reduction Act, has directly and indirectly thrown many billions of dollars at incentivizing people to buy electric cars. And the White House is counting on that to propel its climate strategy. The EV revolution could be ushered in, potentially at a handsome premium, by the dealers themselves. This was, in fact, the weekend's theme: "NADA is all in on EVs," read the event's promo material. "Getting all charged up" read the programming packet tucked into my complimentary NADA-branded backpack.
One major problem with this plan is a certain company called Tesla. When the electric car manufacturer started up, it refused to use dealers at all, opting instead for a direct-sales model. Buyers could check out the cars in showrooms at malls and then buy online, a heady workaround of those dealer protections. Online sales minimized interactions with oleaginous salesmen and added price transparency, which did away with the haggling. Tesla, meanwhile, ended up making more money by not having to sell its cars to dealers, who would then mark them up. Other EV startups—Lucid, Rivian—went the same way, and soon enough, legacy manufacturers started flirting with direct internet sales too. "We have all this inventory sitting around in dealers," Ford CEO Jim Farley said in a 2022 investor presentation. "Get rid of all of it … go 100 percent online." (He later walked back that statement.)
The dealers, of course, fought back and are fighting still. They're in court in California, Texas, Colorado, Mississippi, and Florida, among other places, to keep laws on the books that prevent cars from being sold by manufacturers or that prevent manufacturers from servicing their own cars or otherwise encroaching on their business model. After years of litigation, Michigan, the birthplace of the dealership, recently agreed to let Tesla sell and service cars in-state. Half of states have loosened dealer protections more (red states, ostensibly "pro-business," tend to have the most binding restrictions), but dealers are still making record profits. Even Florida Gov. Ron DeSantis, despite launching his presidential bid with Tesla's Elon Musk, has raised millions from dealers and given no indication he'd veto two restrictive, dealer-sponsored bills passing through the Florida Legislature. (These bills would make it illegal for car manufacturers to set transparent prices and allow buyers to order EVs from legacy manufacturers online.)
The car dealers in Dallas were gathering on the 10-year anniversary of a triumphant 2013 stand they took, as a political bloc, against direct sales in Texas. That year, the Legislature of the Lone Star State downed proposals to allow direct sales of vehicles there—thanks to millions in campaign donations and lobbying outlays from the dealers. After another takedown, in 2017, the Houston Chronicle marveled that dealers are "astonishingly difficult to dislodge." Now Teslas made in Texas have to be shipped out of the state and then reimported across state lines to any buyers in Texas who purchase them online, one of many ridiculous workarounds born of dealer-protection laws.
The first lesson of NADA? Don't mention Tesla.
The morning after the welcome party, I rolled onto the showroom floor with plenty of time to take in the sprawling exhibition, secure a good seat for Nikki Haley's much-anticipated speech, and learn about our industry's future.
Why "our future"? Well, when I submitted a request for press credentials months prior to the event, I was denied. Befitting a gathering of car dealers, I was told, improbably, that the dealers had run out of the thing I wanted—a press pass—which left me with no choice but to secure a similar but much more expensive model: a full-price, regular ticket. And I was doubly bound by the fact that Graham Holdings, Slate's parent company, also happens to own multiple car dealerships, which are indeed dues-paying members of NADA, and presumably important to the company's financial health. I identified myself as a journalist to everyone I spoke with, but the placard around my neck hailing my full-price ticket was a reminder that I had skin in this game.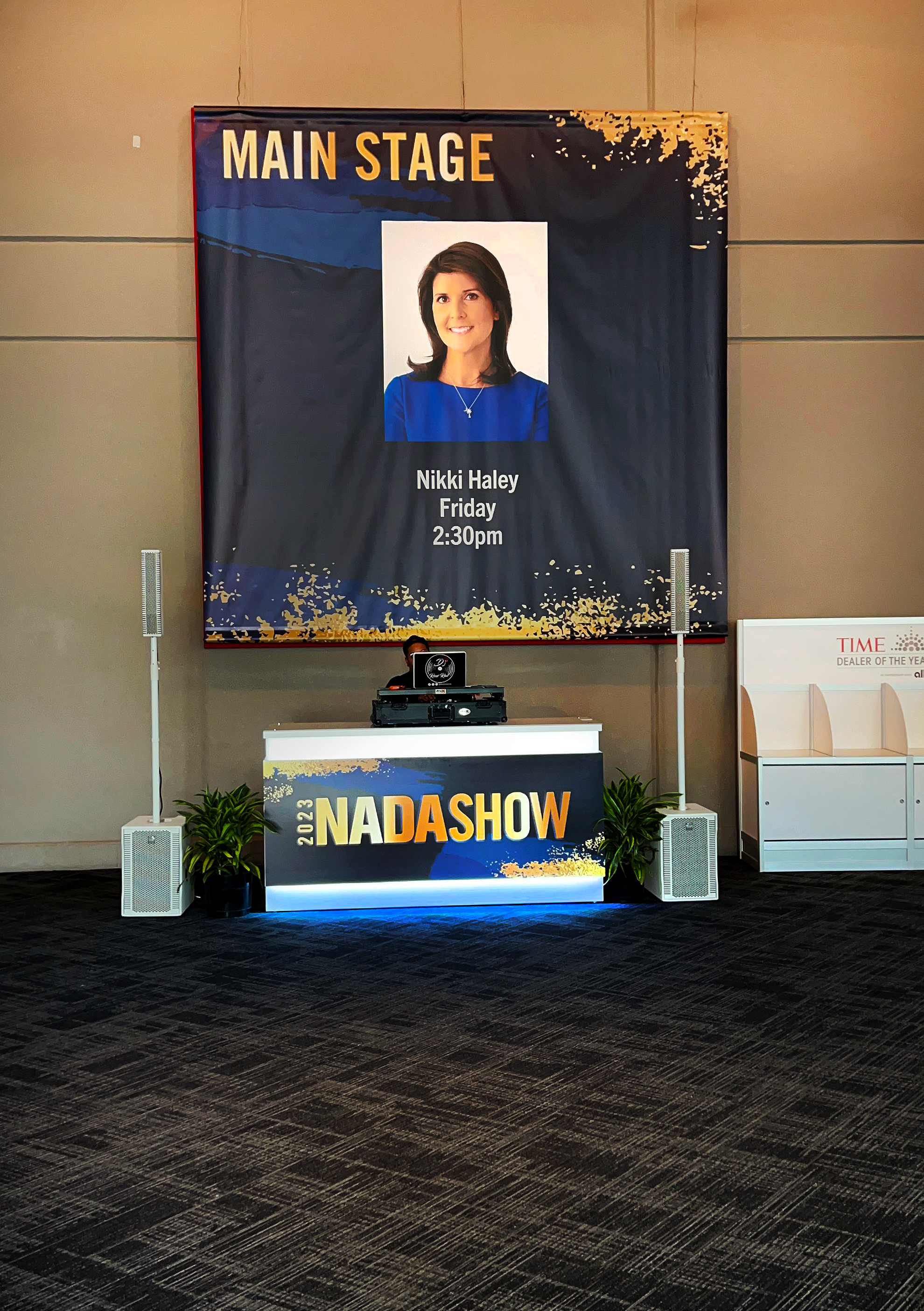 I passed through the doors and entered the carpeted expanse. I journeyed straight to the base of Auto Spin, a 25-foot pyramid with a white Ford SUV twirling at its top. "The world's tallest spinning display, see it one mile away," the monolith proclaimed. I was beckoned by a man on a microphone to spin a prize wheel. "Free money, no risk, no obligation," he said. I spun the wheel, and an attendant produced a wad of cash a cinder block thick, like a teller at a strip club. It was a losing spin. Laughing, he peeled a dollar off the top and presented my prize: "100 … pennies."
I pocketed my winnings with glee, only to find that this was far from the only station giving out money for nothing. All over the floor were prize wheels and games and gimmicks where attendees were raking in $1, $5, $10, and $20 bills with one hand and grabbing drinks from the many open bars with the other. A robotic car wash, called the Hercules 6000, rinsed a red hatchback on an endless loop.
I walked and walked so far I lost sight of Auto Spin, and eventually washed up in the "EV Solutions Center," which was tucked into the farthest reaches of the building.
Here, in the exurbs of the convention, was scheduled programming meant to enlighten dealers about the promise of selling EVs. I hunkered down for a presentation by Buzz Smith, "the EV-angelist." His lecture, "Selling EVs Is Easy, Even in Texas!," was already underway.
Bald and goateed, Buzz wore a shimmering, red-sequined sports coat that seemed, in places, to have been eaten by plastic-hungry moths. Take the time to learn how the car actually works, he counseled the crowd. Get the buyers out for a test drive. "The big message, though, is do not mention the environment. Do NOT mention climate change," he warned. In other words: Don't let politics kill a sale. The crowd nodded. People took notes.
As the microphone made the rounds for questions, one dealer in a light-blue button-down came huffing down the aisle like an objector trying to thwart a marriage. He grabbed the mic, plopped down in the front row, and exhaled as he asked, peevishly: "What is the labor cost?" (He was referring to the cost required to hire technicians to service EVs.)
"I don't know," said Buzz.
"That's a good question! Thank you!" the blue-button-downed man shot back, praising himself. "It's just a lot of risk! These workers are afraid of getting electrocuted; they have to wear gloves."
There were risks too, Buzz said, in fixing an internal combustion engine. And the new class of mechanics was being trained on EVs. The question asker glowered in his chair. An emcee swooped in, thanked the attendees, and the crowd dispersed.
I headed over to the stage to talk to Buzz.
This was not his first presentation, he told me. Hecklers were not uncommon. EVs were up against the economic interests of dealers, who were already conservative—i.e., prone to be suspicious of them—and the full force of Fox News was giving dealers a spread of made-up reasons to hate EVs even more.
"There's a lot of resistance," Buzz told me, "because of the compensation plan. We're asking them to make about a quarter of the income they used to make. So there's lots of pushback, especially if they're staunch conservatives."
In other words, even if the dealers' lobby were able to contain the Tesla contagion, legacy-brand EVs sold through dealerships still posed a problem. This was partially because of virtual showrooms—companies were creating their own sales floors online, and setting transparent, no-haggle prices. But more importantly, dealers make the majority of their money on servicing cars and financing them. Actually selling the cars is not that remunerative. State laws give dealers exclusive rights over warranty service, which manufacturers are forced to pay dealers to provide. (Dealers make even more selling semi-pointless add-ons like "extended warranty" coverage.) Compared with traditional cars, EVs have far fewer component parts; they don't need constant servicing or oil changes. That means that electric vehicles generate 40 percent less aftermarket revenue. Not to mention, EV technicians are harder to come by and thus more expensive to hire than regular mechanics, which further eats into dealer profit. And because EVs are a new technology, and expensive, buyers tend to be more skeptical about them and slower to pony up the cash to drive off in one, which means more time dedicated to each sale, more time dedicated to learning about what's under the hood, and thus, lower margins for salesmen too. More work, less pay—bad, bad, bad.
Buzz wasn't discouraged by pushback, he assured me, just like he wasn't discouraged after his colleagues at the dealership where he'd worked nicknamed him "the Socialist." But he had, he admitted, retired from sales and taken up blogging. Buzz, I got the sense, was part of the reason some of the official material came with a disclaimer: "The views and opinions presented in this educational program and any accompanying handout material are those of the speakers and do not necessarily represent the views or opinions of NADA."
"Dealerships are a little bit blinded by the power of their organization and the franchise laws," Buzz said. They can lobby all they want, he told me, but in the end, "it's not gonna work."
All the floor seats at the Nikki Haley event were taken. I clambered into the nosebleeds, and settled in to watch a comedian in pajama pants warm up the crowd. He rattled off an exhaustive list of car names, and had a joke for each one. The big finish: "If you're in a great marriage, I hope you get a Hummer—not an EV, though. I heard nobody's getting one of them." Loud applause.
Out came Danny Renshaw, NADA's committee chairman, to say a few words. "We're standing on the threshold of a revolution," he intoned somberly. A pall fell over the crowd. It was clear that this was not the good kind of revolution.
In swept some rock music, a headbanging video montage of the year's various lobbying successes. New, unrealistic fuel standards: opposed. State dealer-franchise laws: defended. Tax increases on small businesses: You better believe those were dead as a doornail. There was footage of Republican senator Lindsey Graham, and the front door of the office of his Texas colleague John Cornyn.
Then, more sobering news from outgoing NADA chairman Mike Alford. "We all feel unsettled," he said. "Let me be blunt: There are reasons for concern." But, he said, "people prefer dealerships. Local dealerships are crushing direct sales. Dealers are truly essential." As proof, some dealers were given awards for philanthropic efforts, including for chartering a "free" (donation-based) ice cream truck and a Christmas toy drive. Two vehicles were donated to the Dallas Police Department because "dealers support the enforcement of our laws."
And there, finally, was Haley. As she crossed the stage, those in the floor seats made a late stab at a standing ovation, but this was not the youngest crowd: The applause had already died down by the time most were firmly on two feet.
Haley rattled off her accomplishments as governor of South Carolina, which included helping drive down statewide unionization rates to the lowest in the country after she courted nonunion auto-factory installations from BMW and Nissan. "I didn't allow unions in our state. I was a union buster, and that's something I was very adamant about," she said. It was, to that point, the biggest clap line of the afternoon. "Sounds like you were a unifier," Alford responded.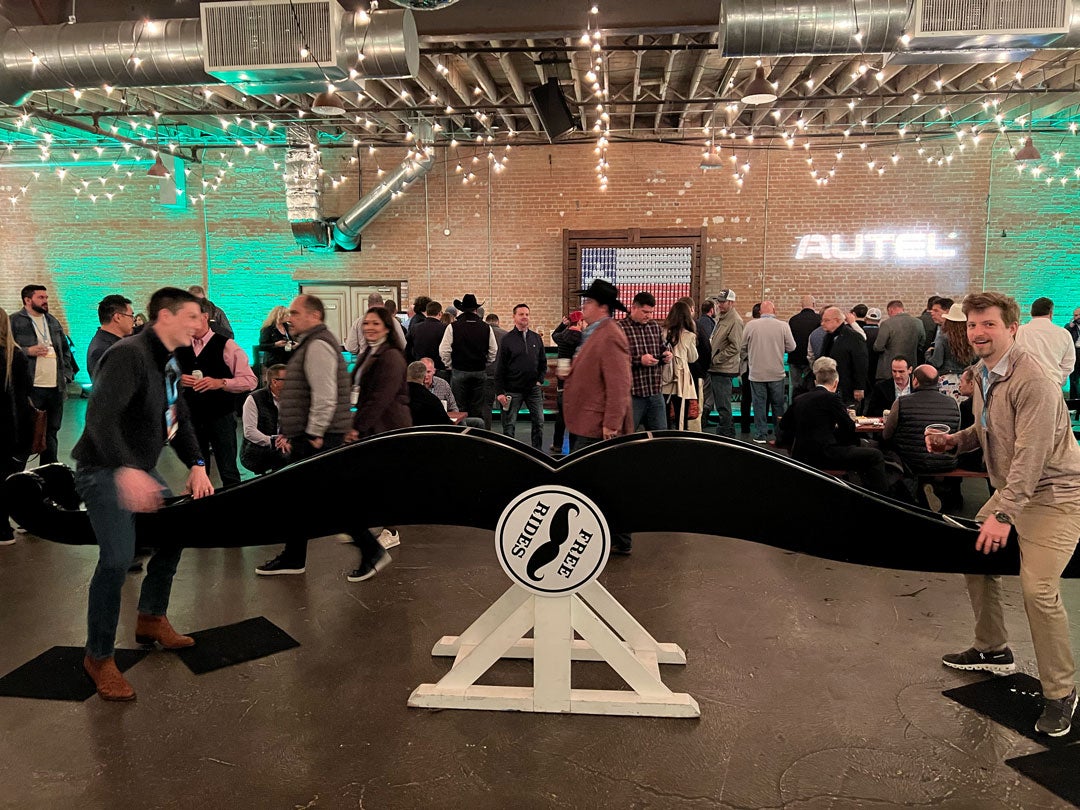 She talked about her time working with Donald Trump, whom she was diligent not to criticize, and her time at the United Nations. ("I don't know what that is. I just know everyone hates it!" she claimed she told Trump's then–Chief of Staff Reince Priebus when he called to offer her the job.) "I like her," whispered a woman sitting in front of me to the man beside her.
Finally, with 10 minutes to go, the discussion took a turn. "We're car dealers, we love politics, we're engaged, as you know from your time as governor," Alford said. "What do you think of the field of candidates right now on the GOP side …"
Just days prior, CNBC had noted that Haley's staff had been directed to report to South Carolina in anticipation of a presidential run. Her appearance at NADA was likely her last before she announced she would be running for president. The stars seemed aligned for a big reveal.
She parried the question, talking about the midterms. "We didn't lose those races because of one person," she said. "Republicans were completely outraised." Which, if not exactly true, sure did set the table for a fundraising ask.
Alford tried again. "Is there any political position you hope to hold someday?"
"I've never lost a race; I'm not gonna start now," she said, before adding, "I'm not announcing today." She got her standing O in the end. "Thank you, thank you," she said. "I'm gonna need each and every one of you."
On the sidewalk outside the convention center, I asked Jim and Brooke, attendees who didn't want me to use their last names, what they thought. "Liked it," said Jim. "She was great," said Brooke. I asked if they'd heard enough to support Haley over the rest of the Republican field in 2024. Well, said Jim, "dealers are very conservative. We gotta see who all's in." The support was not resounding.
Even so, a few weeks later, when Haley did announce she was running for president, her campaign video featured a number of talking points rehearsed, verbatim, at the NADA keynote.
Haley didn't address the electric elephant in the room. But the very next day, another conservative luminary, Greg Gutfeld, was not so cautious.
From the same nosebleeds, I watched the onetime editor of Men's Health and current aw-shucks libertarian everyman of Fox News careen through a couple of jokes about a car dealer ripping off Nicolas Cage and about his own regrets in car-buying. "I love cars," he decreed, before calling his car "a pain in the ass" and admitting, as a resident of New York City, to not really driving much at all. Then he was praising Elon Musk, who, even as he becomes a right-wing hero in some circles, was so villainous 'round these parts I'd barely heard his name whispered all weekend. The full sweep of the monologue seemed almost tailored to offend the target audience. There was grumbling. Even I started to feel bad.
Then, finally, after nine minutes of muted applause and polite laughter, Gutfeld landed one. "Cars are fun. If you wanna live in a padded cell, if you wanna drive your Prius, that's great. I am all for gas, lots of gas!" Gutfeld couldn't even finish his sentence over the riotous applause that broke out. He started in on a different joke, then abandoned it midway through to go back to the well. "Nobody is going to be able to confiscate your gas-powered car, because what's gonna tow it?!" The audience roared. "I have not seen an e–tow truck to save my life!"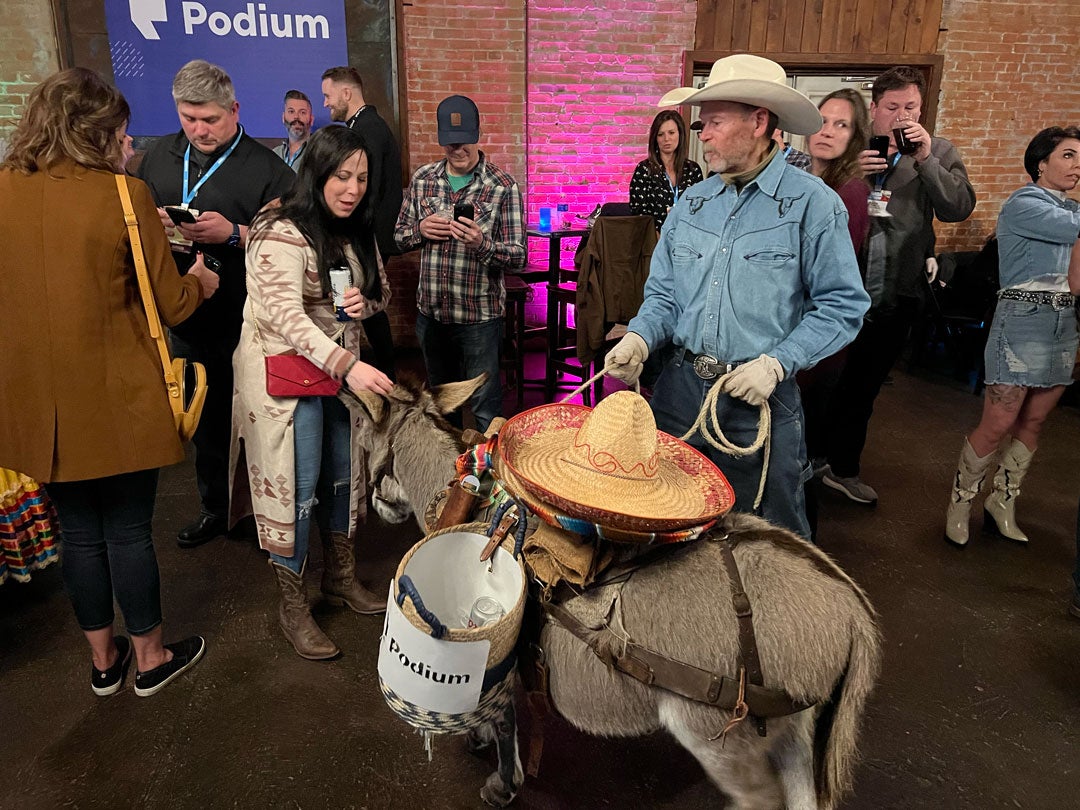 That night, the convention's final evening, had Dionysian promise. Multiple after-parties had been booked with big-name performers. Sugarhill Gang and Nelly were playing one car-company fete; another firm had rented out the House of Blues and locked down Smash Mouth as a headliner. It took some finagling to get on the lists—the spots were reserved for clients, customers, and dealers willing to fork over their contact info and sit through a sales pitch—but I had a dealer's credential.
I entered The Factory, incidentally the name of the venue in Dallas, and dove into a sea of bright-orange cowboy hats festooned with blinking LEDs and bobbing to Sugarhill Gang. The group, which peaked in popularity with the 1979 hit "Rapper's Delight," was midway through a surprisingly macabre set, playing records of songs from friends who'd recently died: "Gangsta's Paradise" by Coolio, "Just a Friend" by Biz Markie. The Gang rapped a few words over the tracks here and there, but only sporadically. The crowd seemed perfectly delighted all the same. When, finally, the group played "Rapper's Delight," the entire band was perilously winded by the song's final verse.
The Gang bowed, and departed. Back to the open bar we stampeded. Last year, I heard, Vanilla Ice had performed.
Then came Nelly's hype man: "Make some noise if you're over 30," he bellowed. We obliged; we were. Nelly ran through his greatest hits of the early 2000s: "Hot in Herre," "Air Force Ones." The music of a bygone time, a simpler, better era, when cars weren't sold by direct-to-consumer, the internet barely existed, and prices were negotiable and opaque. The crowd knew all the words. He did a remix of "Cruise," the country song by Florida Georgia Line, which features a whole bunch of car imagery. Everyone loved it. It was the third time I'd heard it that day: once remixed, once covered, and once recorded, played through tinny convention center speakers.
The previous night, as I'd loitered near various bars at company-sponsored happy hours, parties, and private events, a handful of revelers had admitted to me, in various states of apprehension, that they thought EVs were going to take away everything they had built. But here, no one would tell me they felt the same. They couldn't even hear me ask over the chorus of "Ay, must be the money!" A man in an inflatable dinosaur suit bumped into me again and again.
Once more unto the breach. On the final day of the convention, I hauled myself out of bed for Deion Sanders, the former NFL star turned college football coach. Despite having just blotted the line on a $30 million contract at the University of Colorado, Sanders had booked the 9 a.m. Sunday slot for a motivational number. I thought for sure that attendance would be limited after the night's exuberance, but there everyone was, bright and early, ready for "the church of Deion."
Sanders, more polished than his keynote predecessors, hit the right notes of flattery and ideology that the dealers were looking for. He sympathized with the challenges of running a family business dogged by disappointing progeny, and told the crowd that he ranks his kids every month, to combat the malign forces of youth softness. He knew the names of some cars when presented with the obligatory question of what new make he wanted to buy. His atavism came with the weekend's most polish.
"We've got a soft country right now!" he intoned. Everyone cheered. "We gotta get back to the basics," he said. "You all are providers, leaders, and conduits of change." Later: "We cannot change; we gotta get back to the basics."
"Applaud yourself," Sanders instructed, and the dealers did.
By 10 a.m., I was back on the exhibition floor. I trudged back to the prize wheel and won. I threw the novelty dice and won. A mimosa was pressed into my hand, and then a Budweiser. I was double fisting before 11 a.m., and I was not the only one.
A man with veneers explained to a Colombian bartender how his friend was being hunted by Venezuelans. I walked past another man reporting conspiratorially into his phone that the issue with the kids these days is parents that have become too tolerant. "The problem," he whispered, "it's us." We made wild and inadvertent eye contact. I hurried past the Crypton booth—"Buy and Sell Cars With Crypto"—which was fittingly manned by nobody. I took a hat and a T-shirt, and then flowed like runoff through the channels of the exhibition, back to the EV Solutions Center, for one last keynote speech: "What You Should Know About the New Federal EV Tax Credits."
This, I assumed, could be a major draw—a how-to on tapping the multibillion-dollar vein of public-sector giveaways that was being offered as a buy-off, the free-money lubricant of the EV transition—what, in a simpler, gasoline-powered era, might have been called priming the pump.
But when Andrew Koblenz, executive vice president of legal and regulatory affairs for all of NADA, took the stage, 6 of the 120 seats were occupied. Three of the six attendees, according to their badges, were event staff. One woman was wearing noise-canceling headphones.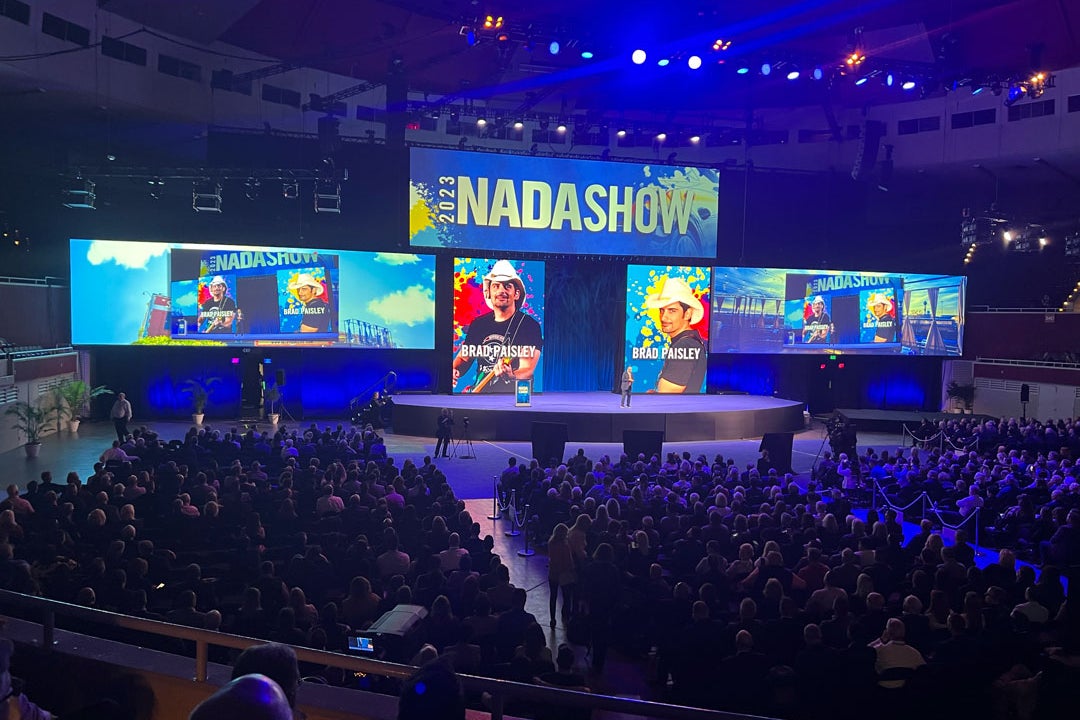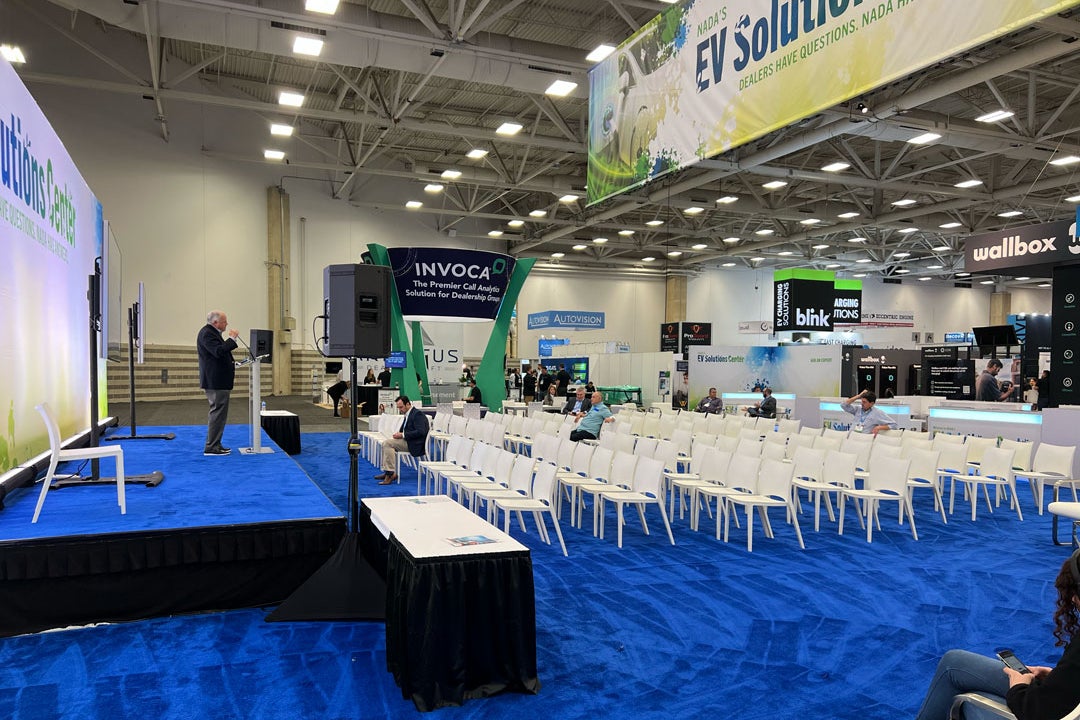 Koblenz faced down the microphone, sighed, and gave an abbreviated presentation. The points were very technical: how to fill out forms for the Section 30D Clean Vehicle Credit, what to know about eligibility requirements for the Section 45W Qualified Commercial Clean Vehicle Credit. The floor opened for questions—or, rather, Koblenz asked the one man taking notes if he had anything on his mind. (He did not.)
Afterward, another man in a suit in the audience strode over to me and began his own impromptu presentation. "This stuff is crazy, what they're saying. It's crazy. Claiming 10 percent of the fleet will be electric by 2030? Never gonna happen. Do you sell EVs?" I looked sheepishly over at Koblenz, well within earshot.
"No," I said.
"They're toys; they're not cars. And there's nothing clean about clean energy—we know that," he said.
I told him I was writing about the convention and about the electric vehicle transition.
"Ask any Tesla owner if they have a second car, and if it's a Tesla," he directed me. "Ask what they take on road trips." He told me tales—grim tales—of Ford dealers who, rather than sell EVs and meet the company's requirements for doing so, had instead decided to give up selling Fords of all types altogether. "I can get you in touch with plenty of dealers who feel that way," he said.
So there it was: Dealers stand between many electric cars and most American car buyers, but they aren't just going to lay down and let some zero-emissions playthings roll them over. Some, I heard over and over, would rather not deal than deal with someone else's dictates.
Never mind that the Environmental Protection Agency was preparing regulation such that two-thirds of all new cars sold by 2032 would be all-electric. Never mind that the Federal Trade Commission had singled out the industry for a crackdown. Dealers had stared down the government before and were making more money than ever. They took hostages—they did not become them. They would self-sabotage if they had to. A recent Sierra Club survey would find that two-thirds of car dealerships did not currently have an EV for sale; almost half of those dealers said they were refusing to offer them. They had 100 years of practice and accumulated power, all leading to this moment. Dealers have the best diesel-powered federal advocacy in the country—and Republican foot soldiers hard at work to ensure that the future will not come.
Correction, May 30, 2023: This piece originally misstated that there are 140,000 millionaires in the U.S. There are more than 5 million millionaires in the U.S., some 140,000 of whom earn more than $1.58 million a year. In addition, this piece originally misstated that the top 10 dealership groups in the U.S. have annual revenues of about $100 billion. That figure is from 2021.