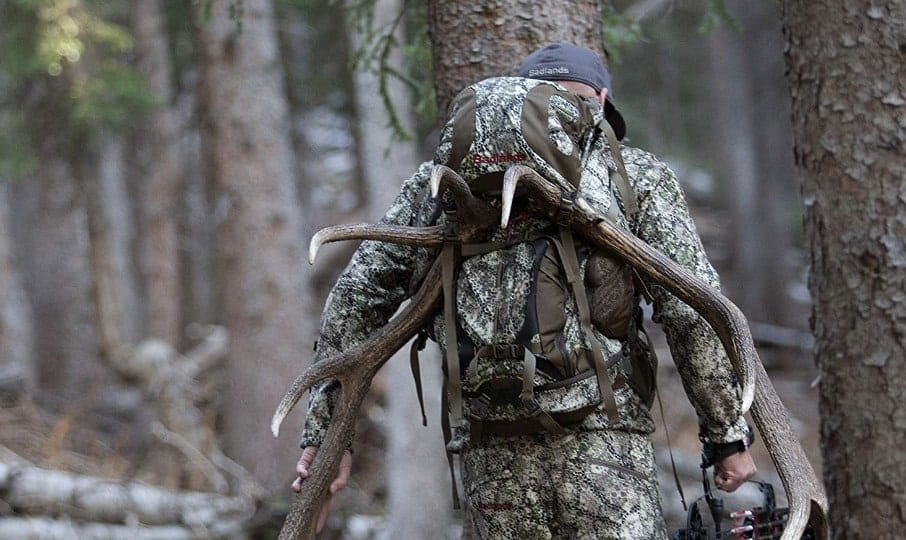 Hunting packs are a more complicated decision to make than you may realize. For one thing, they are designed to carry specific items, versus hiking or tactical backpacks that are designed primarily to carry anything you can reasonably fit into them.
This article will focus on the top qualities you need to consider with a hunting pack, the basic types of hunting packs, and then the specific makes and models of backpacks for you to consider.
Get Great Guns and Ammo Deals!
---
Top Qualities To Look For In Hunting Packs
Here are the top qualities you need to look for in a backpack:
Hunting Packs Size
Here's a good question to ask yourself, because it will play a major role in determining the precise kind of pack you need: what is the pack for?
What kinds of trips are you going to take? Long trips or short trips? How much gear are you going to pack? A lot or a little?
Hunting packs come in different types and sizes, including ultra light, light weight, medium, and heavy weight.
The best recommendation for what you can do here is to take all of your hunting gear, put it in a duffel bag you already have, and then determine what size of pack you need based on that.
Hunting Pack Frame (Internal or External)
Lighter packs will likely have an internal frame, while heavier packs will likely have an external frame.
As far as advantages for internal framed backpacks go, they tend to more effectively transfer the weight from the shoulders down to the hips, which means it's easier to carry the pack over extended distances. They are also easier to balance. The downside to them is that the pack will be in direct contact with your back, which can cause sweating and perspiration.
External framed backpacks are almost always larger with more room. They have plenty of space in between your back and the pack in order to reduce sweating and perspiration. For this reason, they are a better option for hot weather.
On the downside, you may not need all of the space that an externally framed pack provides you with.
Hunting Pack Materials
Poorly constructed packs are the direct result of one thing and one thing only: poor quality materials. The best way to ensure that you are buying a quality pack with quality materials is to buy from a reputable brand, and we will be discussing those brands later in this article.
Use of Storage Space
The best packs will have multiple compartments of varying sizes in order to maximize storage space, which also greatly aids with organization and makes certain items easier to access quickly while on the go.
---
The Different Types of Hunting Packs
Next, let's talk about the basic different types of hunting packs:
Standard Hunting Pack
The standard hunting pack is the most common type of hunting pack there is. It can weigh anywhere from two to five pounds with a volume of anywhere from 1,000 to 3,000 cubic inches. Most standard hunting packs these days come with lots of padding, zippers, and compartments of varying sizes.
A variation of the standard hunting pack is called the ventilated pack, which utilizes a lighter frame in order to produce greater ventilation.
Packable Hunting Pack
Packable daypacks will typically be more lightweight than standard hunting packs with minimal padding as a result. It is designed to fold into its own pocket, should you not be needing the extra space.
Hydration Hunting Pack
Hydration hunting packs are designed to carry water and gear or nothing but water. As a result, they have a hydration pack in them with a tube that travels to your mouth that will allow you to drink the water while you're on the go.
It's very convenient, but the water also adds a lot of space to your pack and keeps the number of additional items you can include to a minimum.
---
The Best Hunting Packs To Buy
Next, let's talk about the top makes and models of hunting packs that you can buy. This list is presented in alphabetical order:
If there's any such thing as a 'universal hunting pack,' that title just may need to be given to the Alps OutdoorZ Pursuit Hunting Backpack.
At a weight of just over four pounds, this pack is also surprisingly lightweight despite its impressive array of features. It has a padded waist belt to properly transfer the weight of your pack from your shoulders to your hips.
This waist belt also has two pockets to carry small items that you can quickly access without having to remove and rummage through your pack. Examples of items that may be convenient to carry in those two pockets would be a phone, knife, fire starter, or a personal water filter.
For the pack itself, there are large compartments that are designed to fit larger or more gear, in addition to lower side mesh pockets that are primarily designed for carrying water bottles. This pack even has a hydration port that allows you to drink your water on the move without having to unpack anything. Pretty cool.
ALPS OutdoorZ Pursuit Pack Exterior Design
The exterior design on this pack is a Realtree Xtra HD fabric camouflage design, and it is widely regarded as being one of the most realistic looking camouflage designs that are out there.
Finally, this pack also makes it easier to carry your long gun or bow, because it has a drop down pocket that allow you to carry, along with webbing loops to lash it securely to your pack. Finally, this pack also comes with a bright orange rain cover, which serves two unique purposes:
To protect your pack from the rain, and

To make you visible to hunters while you travel.
The Badlands 2200 Camouflage Hunting Backpack is designed to carry a heavy load as comfortably as possible. As a result, this pack has some of the best ergonomics of any hunting pack on the market.
The frame is built out of aircraft grade T6 aluminum. This greatly aids in carrying a heavy weight over long distances. The overall design is very similar to a bat-wing, which provides an efficient way to carry long guns and bows over great distances too.
The various pockets, straps, and compartments make organization easy with some items being able to be accessed quicker.
As a hunting pack, there are specific compartments in this pack that are designed to accommodate the following items:
Meat (meat shelf is installed)

Bow/long gun (rifle or shotgun)

Spotting Scopes

Tripods

Pistols

Hydration Pack
Yes, there are even pockets in this pack specifically designed for the purpose of carrying pistols. In fact, there are two such pockets (or holsters) located on either side of the pack to accommodate two pistols. Though of course, you could use those compartments for other items as well.
Badlands Sacrifice Hunting Packs Overall Build
The overall build quality of this backpack is universally excellent. The fabric is a KXO-32 fabric that allows the pack to be much stronger, more water resistant, and quieter in comparison to many of its competitors. Each of these qualities will be badly needed for hunting, because stealth and resiliency are obviously things that any pack should have without question.
This pack is also hydration pack compatible, as was mentioned in the list above. While the pack does not actually ship with a hydration pack, one that measures up to two liters can be added.
The total weight of this pack is five pounds and fifteen ounces, which is a little heavier than you may want, but nonetheless the weight is necessary in order to accommodate each of the above features.
Most of the features in the past two hunting packs that we have talked about are also available for the Tenzing TZ 2220 Day Pack Hunting Pack, along with a few additional features as well.
As with the past two packs, this hunting pack has a hip support that is fully padded. This not only increases comfort, it succeeds in transferring much of the weight of the pack from the shoulders to the hips. Which again, makes it easier to carry the weight of the pack over long distances. Any experienced hunter who uses a backpack will tell you this, so it's not something that you want to look over.
Another great feature of these hunting packs is their channelled airflow system for better ventilation. This will help to keep your back cool, or at least hot, even when you're using this pack in hot weather.
There's also a carrying compartment, as with the last few packs, for carrying a bow or a long gun. The rain cover also folds out to keep everything dry when it is raining or snowing out. All of this comes at a weight of just four pounds, which makes it more than ideal for comfort.
All in all, there are a total of eleven different compartments in this pack that allow you to keep your gear highly organized and accessible as well. The total volume of the pack is 2,200 cubic inches. Which should be more than enough room to fit all of the gear that you realistically needed.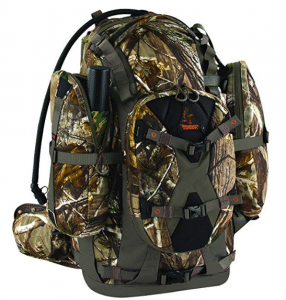 First and foremost, the Timer Hawk Killshot Backpack is built out of a highly durable polyester material that is designed to keep all of the rain and moisture off of your gear.
So if you expect that you will be venturing into an area with a lot of moisture or water, this pack is definitely one that you need to consider. The stitching is also heavy duty and designed to last several years of use.
As with many other hunting packs, this pack has a Hydrapak Hydration Bladder with a capacity up to two liters. But the hose that connects the pack to your mouth is insulated. Which reduces the chance of the water freezing in cold conditions. Most other hunting packs do not come with that feature.
The fabric for this pack is twill fabric. Which is widely known throughout the world for being extremely quiet and resilient in comparison to other kinds of fabrics. This is critical as you do not want to alert any suspecting or unsuspecting game to your presence.
Finally, the shoulder strap system is fully adjustable, which means it can be designed to accommodate people of literally any body type or height. It also means it can be changed to better distribute the weight of your pack to reduce stress and physical fatigue.
Finally, this pack ships with heavy duty clip straps. They make it easier to attach additional outside gear and clothing to the exterior of the pack.
---
Hunting Packs – Conclusion
It's no secret that packing everything you need for a hunting trip can be a challenging task. But with any of the above hunting packs or similar packs, this process can be made easier due to the fact that these packs are designed specifically for the purpose of hunting.
In other words, they are designed to carry specific hunting gear. They have pockets and compartments to accommodate them.
It is for this reason that a true hunting pack like the ones we have described will be a better choice for carrying your hunting gear in comparison to any normal backpack.
Recommended Reading
AR-15 Furniture And Accessories