Picking the best leather shoulder holster for a 1911 is difficult because this should be a sturdy, timeless piece that serves both a practical role and makes a statement about the wearer.
Leather Shoulder Holster 1911 – Quick Pick
After careful consideration, we have decided that the Galco Jackass Rig Shoulder System for 1911 offers the desired balance between looks, feel, quality, comfort, and usability. This piece has a classic feel and comes in "Havana brown," with a black shade of the holster and ammo carrier.
The differentiating feature is the Flexalon™ back plate with four independent pivots which ensure a good fit to most body frames, without adding pressure on the neck or the back. The tilted position of the gun is useful for concealing larger pieces, such as 5" barrels. Different accessories enhance the functionality.
Get Great Guns and Ammo Deals!
---
Getting a 1911 Leather Shoulder Holster
The Jackass Rig by Galco is an excellent choice and already has thousands of fans, both mere citizens, and law enforcement professionals, but depending on your specific needs, built and lifestyle, there are other excellent options. If you are having a difficult time deciding what holster to get, here are some things to have in mind before ordering:
Why should you use a Shoulder Holster for a 1911?
Weight & Size
If your weapon of choice is a 1911, be ready to carry around 2.44 lb, that is as much as a small laptop, therefore be prepared to have a reliable holster which can distribute weight and is comfortable to wear for extended time periods. Shoulder holsters have strap systems and padding like backpacks and can be successfully used even to conceal large weapons, if you pair them with a blazer or jacket. In this case, an ankle holster is impractical, and a waist holster could be uncomfortable.
Drawing the gun
This type of holster offers the opportunity to reach for the weapon without being obvious and remaining in a standing, defensive position. Re-holstering the gun with one hand can be the only tricky part, requiring practice.
Comfortable to wear
After the initial adjustment of the holster to your body, you can just use it as simple as putting on a t-shirt. You get to choose between the horizontal or vertical orientation of the barrel. Due to dimensions, a 5" is better concealed by a vertical holster, while the shorter versions can work with horizontal or tilted holsters.
Use during driving
A shoulder holster is the most comfortable option during driving, so it is a good choice for bodyguards or personal drivers. It offers fast access to the gun without removing the seatbelt.
What are the most important features of a leather shoulder holster?
Choosing the right holster for you is like selecting a pair of good shoes. It needs to be comfortable, adjusted to your body, a good fit for your personal style and includes the right accessories. The most important features when choosing a shoulder holster for your 1911 are:
Safety
Carrying a gun comes with responsibility for security. An excellent holster is crafted for the gun's dimensions and particularities. You have a good fit when the holster is not interfering with the gun's moving parts such as the safety or trigger, and the barrel is exactly the size of the holster.
Comfort
Your holster should not leave any visible marks on your skin or cause chronic pain in any area. The best pieces as padded for extra comfort or are made of natural materials, such as leather and lined with cotton. The weight distribution should be based on dispersing the load and using larger muscles, such as the back. The neck and the spine should be avoided as pressure points. The weight distribution makes it suitable for women too, but the concealment factor is harder to attain.
Fitting
Always choose an adjustable holster, even if you go so far as having one custom-made for you. Depending on the season, clothing or weapon, you might want to adjust it a bit to be right for your frame. Test your size and adjustments by moving around or even jogging lightly. Try making all the moves that you would do in a real situation. The holster should remain in place. Stabilize the holster with tie ons.
Concealment
If under the CCW (carrying a concealed weapon) provisions, you can have a gun strapped to you in public, you are looking for a stealth option. Larger frame persons can opt for a horizontal shoulder holster, while skinnier individuals are better off with vertical holsters. When trying on a holster, pair it with the clothes you are going to wear it to make sure the weapon is not printing on the material.
Accessibility
The most important factor in selecting a holster, after safety, is the ability to draw the gun with minimal effort and maximum precision. A good holster allows you to be less obvious about the fact that you are reaching for a weapon and makes you avoid any accidental discharge during the maneuver. Practice your drawing motion until it becomes more instinct than a thoughtful action.
What makes leather holsters different?
Leather holsters are different from other types of holsters in several ways. Firstly, leather holsters are typically more durable and longer lasting than other types of holsters. This is due to the fact that leather is a natural material that is resistant to abrasions and wear.
Additionally, leather holsters tend to be more comfortable and form-fitting than other types of holsters, as they mold to the shape of the gun over time. Leather holsters are also more aesthetically pleasing than other types of holsters, as they can be dyed different colors and may even feature a variety of decorative designs.
Saddle leather is a natural material used for centuries. If properly cared for, is durable, stylish, and comfortable. Like most leather products (think shoes) it requires a break-in period during which it can feel rigid and uncomfortable, but once formed on the body of the wearer, it becomes like a second skin. Dyed leather can react to moisture and sweat and can leave marks on textile. If the holster is becoming too loose due to extended wear, it can be dipped in warm water and left to dry to regain its original shape.
---
Best Leather Holsters for 1911
If you have come so far and are ready to get a leather shoulder holster for your 1911, let's see other great options, apart from out top recommendation: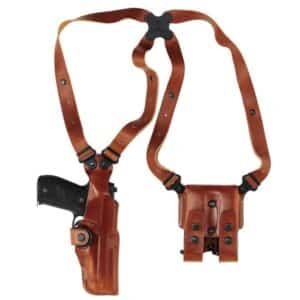 The vertical variant of our top choice features the same comfortable four pivoting clover plate that ensures proper weight distribution and is also created from durable saddle leather, being another Galco quality product.
This is the choice of the US Army and Law Enforcement and can be successfully used by civilians who need a holster that promises to last a lifetime in the roughest conditions.
Galco Vertical Leather Shoulder Holster for 1911 Features
Fits 1911 from 3.5" up to 5" perfectly

Balanced design, with a double ammo compartment on the opposite side

Compatible with tie ons and other accessories
| Pros | Cons |
| --- | --- |
| Easily adjusts to different body types | Re-drawing the gun with one hand takes practice |
| Good quality leather, looks professional | Requires conditioning when brand-new |
| Simple concealment due to position | Could use a tie-down on the mag to avoid movement |
| Fit for right-handed and left-handed | |
| Comes in tan and black | |
The armadillo is a genuine leather shoulder holster created to offer comfort and durability and was designed primarily for the 1911s, fitting models with rails too. Compared to other options it offers an excellent price/quality ratio. The slim straps enhance the concealment factor.
Armadillo Leather Shoulder Holster for 1911 Features
Lightweight, about 1 pound of durable leather

Designed to fit a chest up to 52, adjustable straps

Horizontal, with an adjustable angle

Compact, with double mag equipped with adjustment snaps
| Pros | Cons |
| --- | --- |
| Enhanced concealment abilities due to slim straps and non-bulky design | Too tight for some models (Sig 1911) |
| Good weight distribution, comfortable for extended use | Strap fasteners are considered too long by some |
| Fits up to 5.25" barrels | Only for right-handed users |
| Pure cow leather of superior quality | |
| Belt tie-downs included | |
Another excellent Galco product with a history of over 40 years is this classic piece that was the item of choice of the police in the 70's. A sturdy design using the Galco innovation, the Flexalon plate gives the wearer support and comfort at the same time.
Galco Miami Classic Leather Shoulder Holster Features
Spider harness that pivots independently

Includes holster, ammo carrier, harnesses and adjusting screws

Works with 5-Inch Colt, Kimber, Para, Springfield

Comes in black and tan
| Pros | Cons |
| --- | --- |
| Molds perfectly to the body after a few hours of wearing it | Sometimes comes with color differences between pieces |
| Easy access while seated | Hard to conceal in hot weather under light clothes |
| Fast draw due to comfortable angle | Only available for right-handed individuals |
| Includes a wide range of compatible accessories for extra hold | |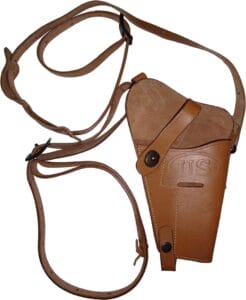 The Colt 1911 was the weapon of choice of the US Army until 1986. During WWII, soldiers would have carried the pistol in a leather shoulder holster much like this accurate replica. This holster is more a collector's item than a practical one.
It does not score too high on concealment, as it was meant for military drivers (jeep, tanks) and can still be used in a similar setting. This is a high-quality item for nostalgic veterans.
Features
Includes the original lift the dot system

Adjustable to accommodate very different body frames

Best fit for Colt .45ACP M1911/A1 Pistol

Replicates the WWII US M-7
| Pros | Cons |
| --- | --- |
| 1/8-inch-thick leather, heavy-duty stitching, resistant to wear and tear | Requires pre-forming by soaking in warm water and letting it dry over the gun for several days |
| Best fit for hunting purposes | Difficult to conceal under regular clothes |
| Classic design, can be a statement piece | Hard to put together the first time |
| Good shoulder padding to eliminate pressure | |
---
1911 Leather Shoulder Holster Options – Conclusion
If you opt for a shoulder holster to use for your 1911 or similar size guns (Glock 17, Ruger SR8, Ruger P95), the Galco Jackass is most likely the most comfortable and stylish option available. Although other Galco products have similar features, this one stands out from the crowd.
It scores high in user preferences for all five dimensions previously listed. Weight distribution gives comfort, wide adjustable straps improve fitting, the pulled back position maximizes concealment and safety. Accessibility is also better due to the tilted position of the gun, being a good compromise between perfectly horizontal and vertical holsters.
Want to see more holster reviews? Check our our Holster Resource page.
Recommended Reading