If you're looking to add a 21st-century optic to your Kalashnikov, here are some of the best AK red dot mounts to get the job done.
There was a time when Kalashnikovs were derided for their lack of modularity. Today, that's no longer the case. While the rifles still aren't as supremely customizable as ARs, aftermarket support for attaching modern accessories has never been stronger.
There are now several rock-solid methods for attaching optics to your Kalash. Regardless of your exact model or how tactical or classic you want the final setup to look, there's an AK red dot mount out there that will fit your needs.
AK Red Dot Mount Methods
When looking to mount a red dot on an AR-15, the location has mostly been determined for you thanks to the generous segment of Picatinny rail found on nearly all modern upper receivers. Whether you prefer your optic farther forward or closer to your eye, it's going to be mounted on the receiver rail.
When it comes to AKs, things aren't as simple. Interestingly, this provides the user with more options. Depending on the method you choose, your optic could be mounted as far rearward as the back of the receiver or as far forward as the front of the gas tube. This equates to roughly 11 inches more total real estate (7 inches for the AR, 18 inches for the AK).
This stems from the fact there are four primary styles of AK red dot mount, and each type places the optic along different areas of the aforementioned 18-inches of real estate. Those four methods are side rail mounts, railed dustcover mounts, gas tube mounts and rear sight leaf mounts. Each comes with its own set of pros and cons.
Side Rail Mounts
The AK was never originally designed to accept optics. But after the Soviets developed night vision scopes, they also devised a way to mount them to Kalashnikovs. This first model capable of doing this was designated as the AKN, with the N indicating it accepts a night vision scope via the rail on the left side of the receiver. The concept continued throughout the Kalashnikov's development, existing as the AKMN for the AKM and as the AK-74N for the AK-74.
Today, most AKs sold in the U.S. come from the factory with one of these now-standardized side rail mounts, and they can be used to attach far more than original Soviet 1PN34 scopes. Several styles and brands of side rail optic mounts are now available for attaching anything from red dots to LPVOs, and this method has the additional benefit of quick-attach/detach while still retaining zero. One potential downside, however, is that these systems prevent left-side and underfolding stocks from closing when an optic is mounted. Stocks that fold to the right are still an option though.
Railed Dustcover Mounts
When AKs first started becoming popular in the U.S. in the '80s and '90s, there was a slew of poorly conceived aftermarket accessories. Some of the most egregious examples were dust covers with Picatinny rails welded to the top.
If you aren't familiar with AK dustcovers, the problem with this method is the component is held in place with nothing more than the rear tab of the recoil spring. While perfectly acceptable for just holding the cover in place (as was originally intended), it was a fool's errand to use this shaky base to mount an optic. Taking the dust cover off, the recoil from firing or even just being bumped were all enough to throw off a zero.
Thankfully, people have seemed to learn in the meantime. It's likely that the only Americans who still use this method bought their AK in 1989 and still don't have internet access. Optic mounts need repeatability in their lockup to retain zero, something already understood by the Soviets when they put rear iron sights on the dust cover of the AKS-74U (Krinkov). For this, they added a front hinge to the dust cover, and it's this concept that makes modern railed dust cover mounts viable.
There are a few different styles and brands on the market, but all simply add a hinge to the dust cover to ensure repeatable lockup and therefore a retained zero when an optic is attached.
Railed Gas Tube Mounts
This method's origins trace back to some of the earliest attempts to mount modern optics to AKs and were used by some American special forces and contractors who carried AKs in the early GWOT (Global War On Terror) days. Railed gas tube mounts simply replace the AK's gas tube with one sporting a Picatinny rail on top.
For those who like their red dots mounted as far forward as possible, this method enables that, but it comes with some downsides as well. Firstly, the gas tube gets hot, and not all optics are cut out to handle the heat. This style also prevents you from fully grasping the handguard as the optic is generally placed where your thumb would normally go. Additionally, some models don't allow you to co-witness the iron sights.
This style's popularity is dwindling, as most prefer red dots mounted farther back. Still, it's a viable method.
Rear Sight Leaf Mounts
This is one of the more recent and increasingly popular AK red dot mount methods, and it's easy to see why. This style replaces the rear sight leaf with a mount that sports either a specific red dot footprint or a more universal Picatinny rail.
The primary advantage of this style is how streamlined it keeps the rifle. Of all the methods, these tend to add the least amount of width, bulk or weight.
One potential downside is unlike some railed dustcovers or side rail mounts, there isn't a good way to attach a magnifier. Though, if you just want to add a small red dot to your AK while retaining a clean profile, a rear sight leaf mount is an elegant way to accomplish it.
Because this mount type replaces the rear sight, some models have another built-in to the mount itself retaining co-witness capabilities. Other models, however, do not. These are also a great option for those who own an AK that doesn't have a side rail and are typically much more affordable than railed dust covers and good side rail mounts.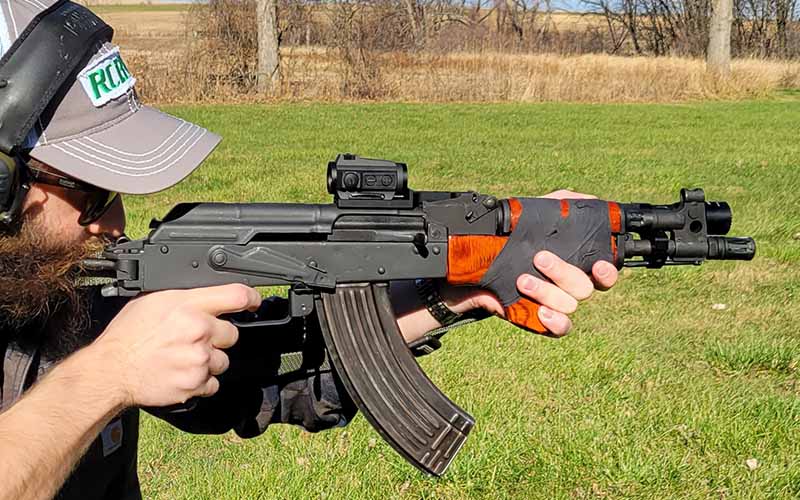 The 5 Best AK Red Dot Mount Options
RS Regulate Side Rail Mounts
RS Regulate is widely considered the cream of the crop when it comes to AK side rail mounts. All the company's models are made of aircraft-grade aluminum and titanium, both incredibly light and strong materials. Unlike most other brands' side rail mounts, RS Regulate's are two-piece designs. This honestly makes the mounts more modular than AKs themselves.
The two-piece design enables the user to mount just about any optic to nearly any pattern of Kalashnikov. You first select the lower half of the mount compatible with your rifle—either the standard Warsaw Pact-pattern or Yugo-pattern side rail. You then choose the upper half which either features a Picatinny rail, a footprint for a specific red dot pattern such as a Trijicon RMR or a 30mm scope ring. The upper is then fastened using screws and a center bolt for additional rigidity.
Once your optic is installed on the mount, it is attached to the rifle's side rail. The mount suspends the optic millimeters above the dust cover. This keeps the bore offset as low as possible and enables one to easily co-witness the iron sights. The mount and optic can then be quickly removed or attached without affecting the zero.
The only real downsides to RS Regulate mounts are price and availability. The company seems to manufacture its products in small batches, and the popularity means they usually sell out fast. There's a good chance you will have to wait months before the exact models you want are in stock, and when they are, expect to pay over $200 for the whole setup.
MSRP: Upper Mounts: $78-$85; Lower Mounts: $146 // rsregulate.com
Texas Weapon Systems Dog Leg Rail Gen III
This hinged and railed dust cover was inspired by the original Russian Zenitco B-33, but it has one major advantage over it (besides the much lower cost and greater availability). The Zenitco requires the installation of a new handguard, as it is what supports the hinge system. The TWS Dog Leg Gen III instead replaces the rear sight leaf with a hinge mechanism.
A downside of this model is it removes the rear sight, making co-witness impossible, but it otherwise provides a reliable method of mounting optics with generous rail space. TWS has a few different models available that are compatible with most patterns of AKs.
MSRP: $174-$185 // texasweaponsystems.com
Ultimak Railed Gas Tube
For those who really want to mount an optic to their AK's gas tube, this is considered your best option. As alluded to previously, however, this is probably the worst of all existing methods.
Ultimak's is the best because its design attaches more securely than any other tube mount system. But at the end of the day, AK gas tubes were never designed to accommodate an optic. If your red dot of choice can withstand the heat without damage or shifting zero, the Ultimak railed gas tube shouldn't give you any issues.
It's capable of co-witnessing iron sights with some optics and Ultimak has variants compatible with most patterns of AK.
MSRP: $104-$121 // ultimak.com
Attero Arms Rear Sight Mounts
Rear sight leaf AK red dot mounts are only made by a handful of companies, but the ones from Attero Arms are generally regarded as the best. Installation is quick and easy, and Attero Arms has variants available compatible with the most popular red dot footprints. The company offers Picatinny rail model as well. Most also feature a built-in rear iron sight to retain co-witness capabilities despite replacing the original rear sight.
MSRP: $74.99 // atteroarms.com
Original Soviet/Russian Red Dots
While admittedly an objectively poor option compared to modern optics in terms of practicality, some people want their AKs to retain as much original style as possible. If that's you, you could consider an original red dot from the Eastern Bloc that comes from the factory with a side rail mount, just like the classic PSO scopes.
Compared to Western and Chinese electronic optics, those made by companies like the Belarussian BelOMO typically feature poor-quality glass, mediocre battery life and fewer modern features. Despite this, they do work fine for most purposes and are generally pretty durable due to their bulkier and heavier construction. If nothing else, they at least look pretty damn cool.
There are several different models available, but two of the best are the PK-A Venezuela and the PK01-VS, both by BelOMO. Prices and availability vary.
---
More AK Stuff:
---

NEXT STEP: Download Your Free Storm Tactical Printable Target Pack
62 Printable MOA Targets with DOT Drills – Rifle Range in YARDS This impressive target pack from our friends at Storm Tactical contains 62 printable targets for rifle and handgun range use. Target grids and bullseye sizes are in MOA. Ideal for long-range shooting!
Subscribe to the Gun Digest email newsletter and we'll send your print-at-home target pack right away. Just enter your email address below.
---