Representative Thomas Massie, a Kentucky Republican, is the latest GOP lawmaker under fire for a gun-filled Christmas card in the wake of a mass shooting in their state.
Police responded on Monday to a mass shooting at the Old National Bank branch near Slugger Field in downtown Louisville. At least four people were killed and eight others injured. The shooter, 23-year-old Connor Sturgeon, was confirmed to be a former employee at the bank and was gunned down at the scene, though it is currently unknown if it was by his own hand or by police.
In the wake of the shooting, which came just two weeks after a deadly shooting at a private Christian elementary school in Nashville, Tennessee, conversations about the need for gun control laws have intensified, as have conversations about politicians promoting gun culture amid sustained violence.
The latest lawmaker facing such criticism is Massie, whose Northern Kentucky district includes parts of the eastern suburbs of Louisville. Numerous posts online have critically highlighted a Christmas card from Massie, featuring members of his family holding firearms.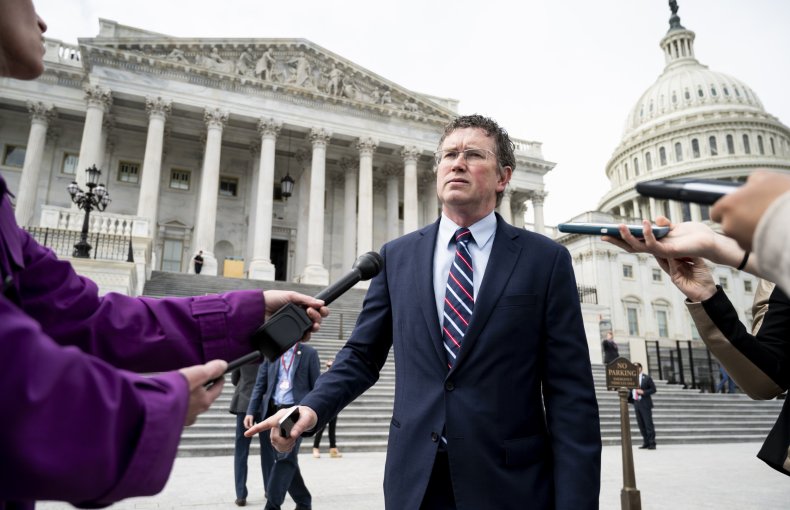 One of the first users on social media to highlight the card was Victor Shi, a Biden delegate and left-wing political activist. Shi initially described Massie as representing Louisville but later corrected himself with a more accurate description.
"Never forget. Rep. Thomas Massie, who represents Louisville, Kentucky, used this photo as his Christmas card in 2021," Shi wrote. "The fetishization of weapons of mass destruction is something we don't need in our members of Congress. Full stop."
Shi also noted that Massie is among the lawmakers up for reelection in 2024, and encouraged people to vote him and other similarly minded Republicans out of office.
This sentiment was echoed by numerous other users on Twitter, including the K-12 School Shooting Database account.
"His Christmas card doesn't age well after a mass shooting downtown this morning," the account tweeted. "People at the Old National Bank building were not grinning ear to ear when someone showed up to their office with a gun."
"Here is GOP Rep. Thomas Massie who represents Louisville," the Voto Latino political organization tweeted. "This is his Christmas card from 2021. Today in Louisville, 5 people were killed and eight others were wounded by a mass shooter with an AR-15 style rifle. It doesn't have to be this way."
"This is Kentucky Rep. Thomas Massie's Christmas card," activist Jack Cocchiarella tweeted. "5 people were killed in Louisville Kentucky today because Republicans care more about guns than people."
Some users came to Massie's defense, including former NRA spokesperson and conservative commentator Dana Loesch, who described the Christmas card as innocuous.
"This ghoul is trying to blame Thomas Massie for the tragedy in Louisville with a years-old innocuous Christmas card," Loesch tweeted in response to Cocchiarella.
At the time Massie first shared the Christmas card, he was criticized for doing so shortly after the November 30, 2021, shooting at Oxford High School in Michigan in which four people were killed. The congressman has yet to release a statement on Monday's Louisville shooting.
Newsweek reached out to Massie's press office via email for comment.