So you've just picked up a Sig Sauer P938, and now you're in the market for a decent holster to begin carrying with. As the P938 is a smaller firearm, it is a good choice for concealed carry or for use as a backup.
There are a variety of good holsters for the P938.
Sig Sauer P938 Holster Quick Pick
If asked, my top pick would have to be the Alien Gear Cloak Tuck 3.5.
This holster not only offers quality at a reasonable price, but excellent customer service too!
However, everyone's own requirements and tastes differ. It's always a good idea to shop around and find the best deal for you. In this review, we'll explore several different holster choices.
Get Great Guns and Ammo Deals!
---
What to Look for in a Sig P938 Holster?
Before we consider specific holster types and brands, there are some important factors we should address to try and narrow down the sheer number of different holsters available to pick and choose from.
A good quality holster for the Sig Sauer P938 should meet the following requirements:
Comfort

Concealment

Retention

Durability

Price
Comfort
Whether you are carrying all day on duty or just going for a quick trip to the store, comfort should be up there at the top of the list of prerequisites for a good holster. If a holster is too uncomfortable to wear, it will only end up on the shelf collecting dust.
What is considered comfortable varies from person to person, but can often fall down to your body type, the clothes you wear, and the material that the holster is made from.
Concealment
A good holster should be able to completely hide your gun without any visible 'printing'. Printing is when the shape, or the 'print', of the gun can be seen through the clothes you are wearing.
If you're new to concealed carry, check out these 10 simple tips.
Retention
Retention is a top priority with any holster. The last thing you want is for your weapon to fall out of its holster (or, worse yet, be pulled out by another person).
All holsters feature some kind of retention, which is usually referred to as active or passive. Passive retention involves the use of friction and/or adjustable retention screws to keep a gun secure. Active retention employs such things as straps, buttons, or finger- and thumb-operated levers which need to be manually released before drawing.
You will often hear holster manufacturers talking about different 'levels of retention'. For a more detailed discussion click here.
Durability
When you buy a holster, you want it to last. Therefore, any holster worth its salt should be built from quality, durable materials that can withstand different weather conditions and regular use.
Price
Prices play a key role in any purchasing decision. You'll be glad to hear that quality holster options exist for a range of different budgets.
---
What are My Sig P938 Holster Options?
Now, let's take a quick look at some of the more common holster styles that are suitable for the Sig Sauer P938:
OWB Holsters
OWB stands for outside the waistband. These holsters are worn about the waist, and attach either to a belt or directly onto the waistband of your pants.
Of course, the larger the gun you carry, the harder it will be to conceal with this method of carry. This is not such a problem for a smaller pistol like the Sig P938, where you might get away with wearing a shirt over the holster with minimal 'printing'.
One advantage of an OWB holster is that they allow for a quick and easy draw.
IWB Holsters
Like OWB holsters, inside-the-waistband holsters are worn at the waist. Unlike, OWBs, these holsters ride inside the pants. They usually attach by a clip, but sometimes rely on adhesive material to remain in place.
This kind of holster is one of the best options for concealment, as it's often very difficult to tell if someone has a gun when carrying IWB.
Pocket Holsters
Pocket holsters are made to be placed in pant pockets (although some can be worn IWB). The exterior of the holster is typically made from an adhesive material, which helps prevent the gun moving around in your pocket and allows you to draw your weapon without pulling the holster out of your pants.
Pocket holsters are a popular choice for subcompact pistols like the P938. For that reason there are a number of pocket holsters which can be used with this gun. For a more detailed list see this review.
---
Top Picks for Sig P938 Holster
We already mentioned the Alien model, which we will go into detail below.  However, we have 4 other quality Sig P938 Holster options to choose from.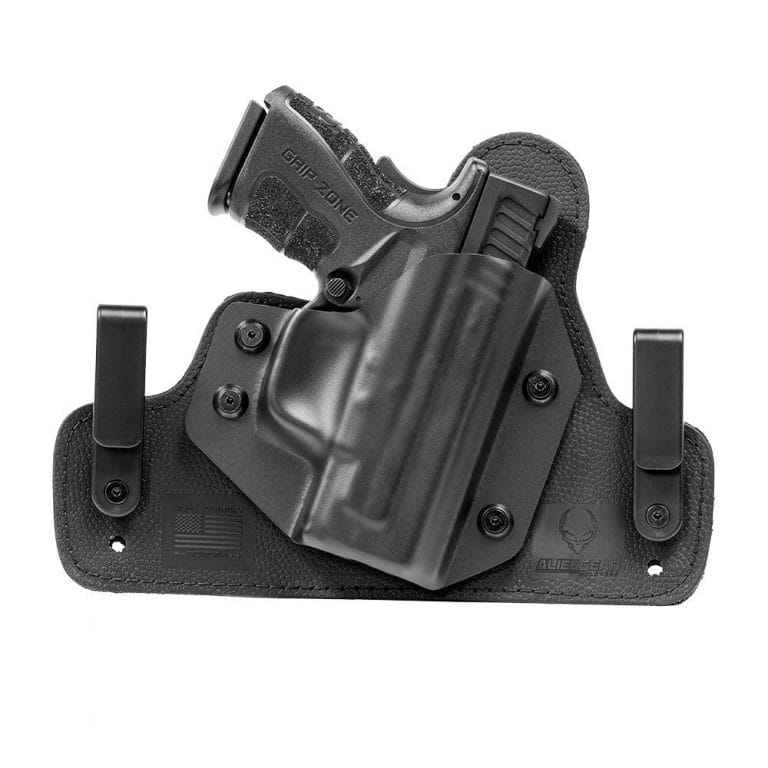 This is the third version of Alien Gear's now well-known Cloak Tuck holster. It's made in the USA from a number of quality materials, and is worn inside the waistband.
Alien Gear provide a 30-day trial period for their holsters, and they come with a lifetime warranty. You also get a lifetime of retention shell swaps with this holster – handy if you choose to change your gun but still want to use the same holster.
| Pros | Cons |
| --- | --- |
| Alien Gear claim that this is the most comfortable concealed carry holster on the planet – I'm not sure I would go that far, but it definitely is a comfortable set up! | Honestly it's hard to pick fault with this holster. One problem you may encounter with holsters featuring swappable retention shells is that the overall size can be a bit big for subcompact pistols. |
| You can adjust gun retention, cant, and ride height with the spare tool kit which is included with the holster. | |
| Retention is enhanced by the rubbery 'alien skin' on the outside of the holster. | |
2. 

Sticky Holster

(Best Sig P938 Pocket Holster)
This holster is designed to be worn inside the waistband, but also works well for pocket carry.
The outside of the holster is made from a sticky material that clings to your body and 'sticks' in your pocket, whilst the inside is made from a smoother material that allows for an easy draw.
| Pros | Cons |
| --- | --- |
| It weighs less than 3 oz., meaning it won't drag your shorts or pants down – with a little luck, you might even forget you're carrying! | It only really works well with deep pockets or loose pants. If you're into wearing tighter pants, you run the risk of 'printing' with this holster. |
| It's ambidextrous. So if you're a lefty or a righty, this holster will work for you regardless. | The lack of any clips or belts can be seen as an advantage to some, other people can struggle to feel safe carrying like this. |
| It can be used in combination with an ankle rig. | |
This leather inside-the-waistband holster is molded specifically for the Sig P938. It attaches to a belt with a clip.
| Pros | Cons |
| --- | --- |
| The holster has a low cut, which gives you a good grip on the firearm. | It's only available as a right-handed holster – lefties will need to put in a custom order! |
| It has a body shield to protect your gun from sweat in the warmer months of the year, and to prevent your firearm digging into your body. | |
| After a few weeks of breaking in the holster, it has very good passive retention and is easy to draw from. | |
This is a US-made leather holster that is designed to be worn inside the waistband. It has a metal clip that attaches firmly to a belt up to 1 3/4 thick.
Barsony also make a similar holster made of nylon.
| Pros | Cons |
| --- | --- |
| It comes with a free magazine pouch included in the price. | The holster is made from very soft leather which, although comfortable against the skin, can be a problem for re-holstering – some people complain that it tends to collapse without the weapon in it. |
| It's a lightweight holster at just under 4 oz. | |
| It is available for both right hand and left hand draws. | |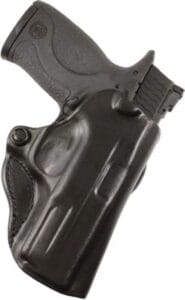 The Desantis Mini Scabbard is a no-thrills holster that can be bought specifically for a number of guns, including the Sig P938. It is worn on the belt and outside of the waistband.
If you're looking for a simple holster made from durable materials that does what it says, this might be one to consider.
| Pros | Cons |
| --- | --- |
| It features an adjustable retention screw, so you can customise how tightly the gun is held within the holster. | As an OWB, It may not be an ideal choice for concealed carry depending on what clothes you are wearing. However, it will be unnoticeable under a loose shirt or jacket. |
| The holster attaches to your belt with a 'belt tunnel', rather than loops. That way your weapon is held more firmly to your body. | |
| Its simple design means no retention straps or locking mechanism will slow down your draw speed. | |
---
Best Sig P938 Holster Options – Final Word
We've taken the time to look at a number of different holster options. So, which one to choose?
Of course, what works for some won't work for others. You may try a holster and discover it simply isn't for you.
All of the above are excellent choices for the Sig P938. However, my top choice would have to be the Alien Gear Cloak Tuck 3.0.
This holster is handmade from a combination of quality materials, and the craftsmanship really shines through. As well as that, it has a lifetime warranty – if you ever encounter any issues!
Overall with this holster, I'd say you're picking up a pretty sweet deal.
Recommended Reading