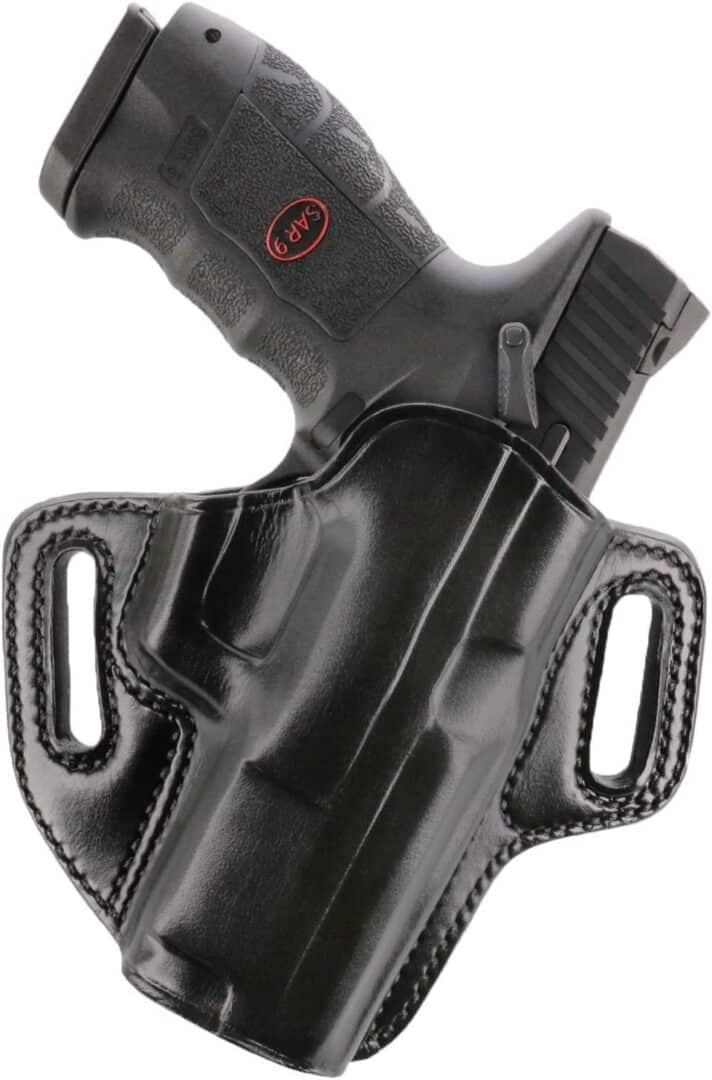 The Kimber Ultra Carry II is a quality handgun, as I'm sure you are aware. Not only is it an attractive firearm, but it is also highly effective as a self defense weapon and great for concealed carry. To be able to carry it, however, you will need a holster. I'm sure that is why you're here.
Kimber Ultra Carry II Holster Quick Pick
I'd like to start off with showing you the top holster I've found for the Kimber Ultra Carry.

The Galco Concealable Belt Holster is a fantastic holster I think. It's made specifically for a three inch 1911, which is exactly what the Kimber Ultra Carry II is. It's made from quality saddle leather and is used by law enforcement, military, and regular citizens alike. One of the great perks is that it is molded to the curve of your hip for optimum comfort.
I read about an NRA instructor who absolutely loved this holster, which is telling you something. Speaking of the NRA, before we move on to talk about some other holster options, let's learn a bit more about the renowned organization we have all heard of.
Get Great Guns and Ammo Deals!
---
About the NRA
Most people have heard of the NRA. Even if they don't realize it, they've probably heard of it. Whether it's because of the countless items of merchandise like hats and shirts out there, or because the name itself is reputable, they are bound to have heard the organization's name mentioned before.
What about them makes them so big and so popular? Why does everyone seem to know who they are, and why do so many people trust them?
History
The National Rifle Association (NRA) was formed by Union veterans Colonel William C. Church and General George Wingate. They started it due to the lack of marksmanship among the troops so they could better the experience and handling of rifle shooting. Civil War General Ambrose Burnside became their first president.
Their first rifle range was opened a couple years later. It was called Creedmoor, being built on a farm in Long Island, called Creed Farm. The first annual shooting matches were held on this property, starting a tradition that would carry on far into the future.
Over time they needed to build another ranger due to the added programs among youth in the early 1900's. The national competitions have grown over time, and now they are one of the biggest sporting event of our country to this day.
They continued to support military training over the years, and eventually became a ranking resource among the law enforcement. There are thousands of NRA certified policemen now, and the NRA continues to provide training to roughly 1,000,000 firearm owners a year.
The Second Amendment (NRA-ILA)
Of course, I would say one of the main things the NRA is known for is their support of the Second Amendment. Some might even correlate the two together when they think of one or the other.
"A well regulated Militia, being necessary to the security of a free State, the right of the people to keep and bear Arms, shall not be infringed."
In 1975, the NRA formed the Institute for Legislative Action as their lobbying arm. Through this branch of their organization, they continue to defend and fight for the second amendment rights of legal and law-abiding citizens in America.
With millions of members, together they respond to any attack on the rights given us by the second amendment, and continue to educate and inform the people.
Firearm Training
The NRA also offers courses on gun safety and training across the country. Nearly a million people attend these courses annually. Whether you are new to firearms or a hunter needing training, whatever your age or experience, and whatever firearm type you prefer, there is a form of NRA training for you.
With over 100,000 instructors and thousands of coaches, there's bound to be a training program somewhere near you.
Competitive Shooting
The NRA has a competitive shooting division for all levels. With 11,000 tournaments and 50 national championships, the availability of competition is not lacking.
For the novice shooter, joining a league might be the best option. There are also nearly 300 colleges and universities that offer programs for their students.
There are countless programs and competitions you can join throughout the year. Check out the NRA's championship and tournament calendar for further information and details.
NRA Museums
Of course, if you want to see an array of classic and historic firearms, if you're in the area of one of their museums, they're worth stopping by. With centuries of American history within their walls, you will experience a bit of American pride on your tour.
Locations include the NRA National Firearms Museum in Fairfax, VA; the NRA National Sporting Arms Museum at Bass Pro Shops in Springfield, MO; and the Frank Brownell Museum of the Southwest in Raton, NM.
NRA Gear and Membership
They also have a long line of quality product available, such as sportswear, gear, and even gifts for loved ones. Whether it's a hat, shirt, holster, bag, knife, or book or DVD, they have pretty much everything.
As a member, you can rest assured that your purchases are going toward the protection of your Second Amendment right. Memberships aren't expensive, and you get to be inside the loop on NRA news, any updates or announcements about anything related to our Second Amendment, and exclusive prices and deals on a variety of other aspects.
If you support your second amendment, there's not any more of a patriotic way to show that support by being a member, I think.
---
Best Holsters for Kimber Ultra Carry II
Having seen the above holster, perhaps you liked it and want to see more, or maybe you're after something a little different. Whatever you're looking for, I've listed a few options below that I think are worth looking at and considering.
A quality and comfortable holster meant specifically for 3 inch 1911's, such as the Ultra Carry II, this is a great option when it comes to looking for a holster for this gun. The saddle leather gives it a great look, all the while aiding in the comfort and security of your pistol.
Galco Concealable Belt Holster for Kimber Ultra Carry II – Features
Saddle leather material

OWB style

Right and Left handed options

Contoured body side of holster to hip

Combat grip

Double stitched
| Pros | Cons |
| --- | --- |
| Comfortable fit | Stiff molding at first |
| Conceals well | Cant may be too forward for some |
| Lasting holster | May need to practice drawing with the retention |
| Sits high | |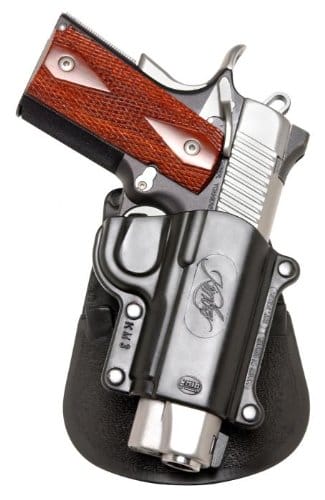 Another good option, this holster is meant to suit the needs of a variety of 1911's. It is a nice paddle holster if you prefer that style, and sits comfortably.
Fobus Standard Holster RH Paddle Kimber Ultra Carry II – Features
OWB style

No maintenance required

Kydex material

Lifetime warranty
| Pros | Cons |
| --- | --- |
| Open bottom | Can get caught if drawn at odd angle |
| Fits 3" perfect | Can be tight fit at first |
| Comfortable | May be too high for fully-loaded gun |
| Conceals well | No left handed option |
This hip holster has great retention, and the stay-open design works well for reholstering without any fuss. The auto retention is disengaged with a middle finger sweep of the retention lever, allowing your gun to be drawn with ease.
Bianchi 82 Carrylok Hip Kimber Ultra Carry II Holster  – Features
FingerLok release of retention

Stay-open design
| Pros | Cons |
| --- | --- |
| Fits great | Retention lever might be odd location for some |
| Comfortable | Takes some time getting used to draw |
| Conceals well | Weight may cause it to sag |
This one is a good option if you're after an IWB. It fits a variety of guns, all ranging from 3 inches to nearly 5 inches. It is made of quality leather, and conceals well.
The Defender Leather IWB Holster for Kimber Ultra Carry II – Features
Bullhide leather

Handmade in US

Lifetime warranty
| Pros | Cons |
| --- | --- |
| Comfortable | Needs breaking in |
| Good quality | Very snug fit |
| Strong clip | May cause slide to pull back |
| Stitching is strong | May carry too deep |
| | Slightly bulky |
If you want that old western look, this leather belt holster will certainly give you that appearance. It could quite possibly last you for years to come, and has a secure retention on your firearm.
Galco Combat Master Kimber Ultra Carry II Belt Holster – Features
Saddle leather

Open muzzle

Open top

Left and Right option available
| Pros | Cons |
| --- | --- |
| Quality made | May rub side due to no flap |
| Fits great | Needs breaking in |
| Printing is minimal | Might shift belt |
| Good retention | |
---
Kimber Ultra Carry II Holster Options – Final Thoughts
Of course, my top choice still remains the Galco Concealable Belt Holster. It is quality made, and you're guaranteed no cheap materials. It's also a good fit for the 3" size of the Kimber Ultra Carry II, which, as you know, is important.
The features fit the bill, what with the contouring to your hip and the capability to still easily conceal, despite it being an OWB. While the retention mechanism can be unusual to get used to, it's still simple and easy once you get the hang of it, and still allows for a sturdy hold of your firearm yet quick draw.
While we have our preference, you might have your own. Let us know what holster you prefer and any experience you've had with any of these or another for the Kimber Ultra Carry II. Also, let us know your NRA experience, and any further questions you may have.
Recommended Reading
Best Kimber 1911 Concealed Carry Holsters
Best Hunting Holster For Kimber Micro