In recent years, most large tech corporations have begun pushing anti-racism public relations and touting their donations to Black causes. There is no company more steeped or skilled in this practice than the elder of the group, Microsoft. By deploying fleets of flacks, messaging professionals and hired intellectuals, the company has managed to maintain a pristine image as a "moral leader" of Big Tech, while avoiding and deflecting attention from its deep and sordid history of collaboration with police, prisons, intelligence agencies and militaries.
Microsoft has been so effective at keeping public attention away from these activities that it has largely avoided the so-called "tech-lash" that's bruised the reputations of its peers. It owes this success, in no small part, to a large squadron of traditional company spokespersons. But above these employees is a lesser-known Microsoft-funded network of researchers, academics and journalists that operates at the highest levels of public and academic debate, and who together constitute a kind of "shadow" PR operation. This network has generally flown under the radar in recent years, even as some of its members have achieved prominence and even fame.
It's time to meet them and see how they function.  
Exploiting Black Lives Matter
Following the police murder of George Floyd and fatal shooting of Breonna Taylor in 2020, Black Lives Matter uprisings erupted across the country. Microsoft was especially vulnerable given its thoroughgoing yet little-known relationship to police, prisons, courts and intelligence agencies. In a matter of days, it went into full-scale PR mode.
Its CEO, Satya Nadella, quickly decried systemic racism and stated Microsoft is "united with the Black community" for "change" and "racial justice." Nadella touted the company's recently launched Criminal Justice Reform Initiative and $1.5 million in donations to six racial justice organizations, including Black Lives Matter and the NAACP.
At the same time, Nadella was continuing Microsoft's support for police through its Public Safety and Justice division, which supplies a wide range of technologies to the carceral state via partnerships with third-party "independent software vendors" that operate on its Azure cloud. This includes a comprehensive police surveillance platform, Microsoft Aware, that pools information from sensors (such as CCTV cameras and body cams) with records and other data for real-time "situational awareness" by cops and investigators.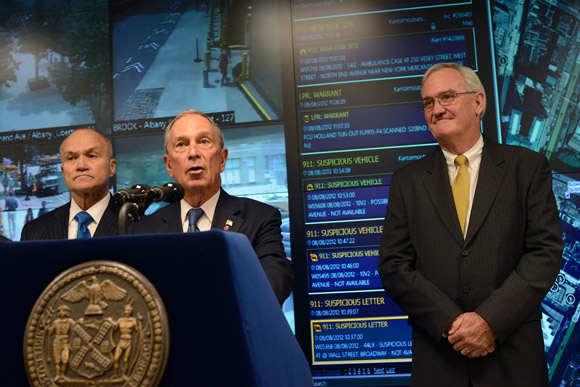 Originally co-created with the New York Police Department, Aware powers surveillance in Atlanta, Washington, D.C., Singapore, Brazil and Bulgaria.
Aware also administers a predictive policing investigative product for the NYPD, Patternizr, which attempts to identify those responsible for committing crimes after they occur. Along with other police tech, such as PredPol and COMPAS, predictive policing products are racist.
Some time after Microsoft developed its Aware product with the NYPD, it configured it for prison surveillance in the United Kingdom. Called the Microsoft Digital Prison Management Solution, it combines "Microsoft technology with corrections operational knowledge" to empower "agencies and prison authorities to ingest and collaborate on data to respond to real-time threats and hazards whilst streamlining operations," providing "a feature rich situational awareness platform" for prison authorities.
Microsoft has long equipped carceral authorities with new technologies. In the early 2010s, it partnered with a company called Tribridge (thereafter acquired by business-to-business tech giant DXC Technology) to develop prison surveillance and administration products for the Illinois Department of Corrections. Its products include Offender360, which offers an inmate surveillance and risk scoring solution; PreTrial360, a solution with crime prediction capabilities for use by the courts; and Youth360, a product that pools a wide variety of data about children caught in the carceral system. Tribridge/DXC's Offender360 has since been acquired by Harris Computer and services many of the top counties in the U.S.
With the Illinois State Police, Microsoft developed the FusionX fusion center architecture designed to conduct surveillance and share information across government jurisdictions. In partnership with geographic information system giant, ESRI, it developed the Microsoft Fusion Framework solution for the federal and state agencies, as well as police departments. In 2012, a U.S. Senate Subcommittee reported that fusion centers "produced irrelevant, useless or inappropriate intelligence reporting" for the DHS, and "many produced no intelligence reporting whatsoever." Activists have been pressing to abolish fusion centers for targeting Muslims and communities of color, while threatening civil rights and liberties.
Microsoft also offers electronic monitoring, or "e-carceration," technology to carceral authorities. In the US, DXC features interfaces to link with ankle monitors and GPS, as well as smartphone software to monitor people on probation and parole. In the U.K., Microsoft says it is helping to fashion "the next generation of offender tracking technology," powered by the Microsoft Internet of Things.
In addition to this, the company partners with Kaseware, a Microsoft Aware-style software system used by police departments around the world. In the state of Michigan, Kaseware integrates with ShadowDragon, a social media surveillance solution for cops and intelligence agencies. Kaseware's chief business officer, Mark Dodge, is a former Naval intelligence and CIA officer who told me in an interview that while working for Accenture, he helped develop Microsoft Aware for the NYPD. Dodge then had a brief stint with Microsoft partner Axon, the industry leader in Taser stun guns and body cameras — illustrating how circles in the intelligence, police and corporate surveillance industry intersect.
Of course, Nadella has been silent about all of this.
Days after Nadella's statements of solidarity with African Americans, Microsoft President Brad Smith announced that Microsoft was banning the sale of facial recognition to police. This was a PR stunt — the company was simply banning the sale of its own, in-house (Microsoft) brand of facial recognition tech to police, but it still supplies technology used by police for facial recognition, often in partnership with third-party surveillance vendors that operate on the Azure cloud. Smith's so-called "ban" was touted by Microsoft star researcher Kate Crawford, who, like so many other Microsoft and Microsoft-funded "ethics" researchers, almost entirely omits Microsoft's racially exploitative and oppressive operations from her work.
Smith's 2019 book, "Tools and Weapons," co-authored with Carol Ann Browne (Microsoft general manager, chief of staff and executive communications), has chapters called "Privacy" and "Surveillance." Confident he will not be challenged by his audience, Smith fails to mention the company's Public Safety and Justice division and actively conceals Microsoft's sprawling carceral tech network.
Microsoft's Racist "Anti-Racism" PR Industry
Alongside Nadella and Smith's announcements, Microsoft has launched a dizzying array of "ethics" initiatives that whitewashes its programs that produce inequality in the same communities it claims to support.
Through its five-year Racial Equity Initiative (REI), Microsoft pledged to "strengthen our communities" by pouring millions of dollars into thousands of Black nonprofits, high schools, historically black colleges and universities, digital skills, broadband to Black and African American communities, Black-owned financial institutions and Black businesses. These kinds of organizations and initiatives typically promote Black capitalism and are designed to tame and co-opt radical struggles.
Microsoft also launched a Diversity, Equity and Inclusion (D&I) program to "increase diversity and foster inclusion at Microsoft and in our communities." The Microsoft employeeprogram includes projects for Black, LGBTQIA+, disabled, Hispanic/Latinx, women, disabled and Indigenous persons, while its "beyond Microsoft" program focuses on "inclusion," including issues of bias, "covering" (altering one's behavior in conformity with dominant groups such as whites, cis-gender males, etc.), allyship (with marginalized and oppressed groups) and privilege (of dominant groups). Microsoft's "Life" initiative provides over 50 testimonies of people from diverse backgrounds — people of color, women, persons in the Global South — who praise the company for its humanitarian virtues.
These programs promote a liberal agenda of "inclusion" that erases anti-capitalist and anti-imperialist consciousness and struggle, portraying Microsoft as a "woke" corporation when in fact it brutally harms the people it claims to defend.
As part of its D&I initiative, Microsoft developed educational curriculum called the "anti-racism journey for educators with students," which, of course, does not teach a single thing about Microsoft's relationship to the carceral state.
Microsoft Captures Academia
In the early 2000s, when Microsoft was king of the computer world, the company began making serious inroads into American universities. In reaction, students across the country protested, demanding the wholesale exit of Microsoft from college campuses.
However, student resistance was not sustained, and by the 2010s, the company started to produce celebrity "ethics" researchers to work on problems acceptable to its corporate agenda. In 2013, Microsoft researcher danah boyd catapulted to fame by founding a research institute, Data & Society, exclusively with Microsoft money. A year earlier, under the direction of privacy researcher and professor Helen Nissenbaum, New York University accepted $1.625 million from Intel — a close Microsoft partner — to conduct research on "Social Computing." The following year, also under the direction of Nissenbaum, NYU's Information Law Institute brought in $1 million from Microsoft to study law, policy and tech. In 2017, Nissenbaum left NYU to start the Digital Life Initiative at Cornell Tech in New York City, which receives funds from Microsoft.
Meanwhile, Microsoft "AI ethics" researcher Kate Crawford left her post at Data & Society to co-found AI Now with then-Google researcher Meredith Whittaker, who has recently criticized Big Tech money in academia (without naming Microsoft as a culprit) and was silent for years about Crawford and Microsoft's role at her organization. Crawford has also worked at the Microsoft Research Lab in Manhattan.
All of these researchers working for or taking money from Microsoft were clustered in New York City when the company publicly launched its "Domain Awareness System" (DAS, also called Aware) in collaboration with and for the NYPD in 2012. This network of scholars continues to champion the cause of privacy in defense of people of color, but has been silent about the Microsoft-powered police surveillance apparatus blanketing their own city.
Like Nadella and Smith, other researchers and members of their institutes omitted any mention of Microsoft's Public Safety and Justice division and its extensive partnership ecosystem with surveillance vendors across the carceral pipeline.
Sarah Brayne, a former postdoc researcher at the Microsoft Social Media Collective, has made only a fleeting mention, in a single sentence about Microsoft's DAS, in her many publications on police tech. Her research, including her Ph.D. thesis and book, "Predict and Surveil," interrogate the use of predictive policing software PredPol in Los Angeles, without mentioning that Microsoft was partnered on PredPol for the LAPD.
Around the same time, ex-Google worker Timnit Gebru was a Microsoft postdoc researcher when she contributed to the widely lauded Gender Shades project that identified gender and racial bias in IBM, Face++ and Microsoft's facial recognition algorithm. (She concluded the problem was in large part due to a lack of diversity in training data and benchmark datasets.) The project provided the company with justification for expanding facial recognition while making it look like a "social justice" initiative. Microsoft praised the research, while Gebru and colleagues were silent about the rest of the company's misdeeds. Ultimately, the project served to direct attention away from Microsoft's collaboration with police, courts, prisons, intelligence agencies and militaries, and toward  a narrow focus on facial recognition bias. The media picked up this narrative, which was even packaged into a popular Netflix film, "Coded Bias." 
In 2018, when documents were published exposing IBM's "skin color video search" pilot project for the NYPD, Microsoft researcher Kate Crawford tweeted a response condemning the company — while omitting any mention of the fact that it ran on the Microsoft DAS. In a tweet, Crawford also praised Microsoft for being "ethical" when it pretended to stop providing U.S. police with facial recognition services. (Crawford later deleted the tweet but remains silent about these issues.)
Crawford's popular law review article, co-authored with then-AI Now researchers Rashida Richardson and Jason Schultz (with "insights and feedback" from Whittaker), addressed racist predictive policing practices, but made no mention of Microsoft's contributions. In 2015, Microsoft boasted about "stepping into" predictive policing in the spirit of the dystopian 2002 film, "Minority Report." Richardson and Schultz also involved themselves in conferences featuring FBI agents and police chiefs through the Microsoft-funded think tank The Policing Project, which is a front for policing.
For her part, famed Microsoft researcher danah boyd (who spells her name using lower-case) has also been silent about Microsoft's relationship to the carceral state. The founder of Data & Society, boyd has presented herself as an opponent of racism and anti-Black surveillance. She promotes her organization's publications criticizing other tech companies' racialized surveillance while praising Microsoft's "inspiring…development of ethical tech" and moral leadership. 
Other prestigious anti-racism intellectuals have also participated in the ethics washing bonanza. In 2021, Microsoft hosted a conference called "Inclusion 2021" that featured luminaries like Kimberlé Crenshaw (who coined the term "intersectionality") and sociologist Michael Eric Dyson. While the speeches were geared towards general conversations about identity politics, rather than tech, none of the guests raised issues connecting Microsoft to racism and inequality.
Later that year, Microsoft launched a "Race and Technology" lecture series in conjunction with NYU. The speaker lineup features 14 prominent researchers, all of them people of color. A lecture host confirmed to me that the speakers were paid, though Professor Charleton McIlwain, the NYU member of the Organizing Committee in collaboration with Microsoft, did not respond to a request for comment asking how much. 
The only two speakers to mention anything about Microsoft's connections to racist policing were McIlwain and Ruha Benjamin. McIlwain only mentioned it after I asked him during the Q&A to address an article that I published at The Intercept,  "Microsoft Police State." McIllwain, whose lecture focused on IBM's relationship to police in the late 1950s and 1960s, responded that his speech "implicates a lot of — and certainly our most largest tech companies — in many ways, and certainly Microsoft is a part of that." But his primary concern is "thinking about a different future" rather than focusing on the companies "that have been implicated in building the infrastructure that has done so much damage in terms of race that we see today."
Benjamin, who is widely considered a leading authority on race and surveillance, made a single mention of Microsoft's contract with U.S. Immigration and Custom Enforcement (alongside other Big Tech corporations).
The other speakers followed suit, failing to mention anything about Microsoft's deep collaboration with the carceral state. Simply put, the company paid for a "social justice" front that made their competitors look bad while letting Microsoft off the hook. One might imagine a panel of speakers paid by military contractors to promote "world peace," or one sponsored by the National Rifle Association to advocate "nonviolence."
Exceptions notwithstanding, the omissions noted above have not elicited protest or objections from the intellectual classes. Unlike the students who protested Microsoft's presence on campus in the early 2000s, the company has been welcomed by "digital justice" intellectuals of the tech "left." Free of any popular resistance, Microsoft not only pumps money into computer science research, it fashions "tech ethics" celebrities and sponsors numerous academic conferences, university faculties and research organizations that restrict the narrative to narrow issues that Microsoft deems acceptable.
Silence is Golden
Big Tobacco once awarded money to "scientists" who claimed cigarettes are safe, a practice now widely condemned. Today, companies like Microsoft are deep in the campus space with its own widely respected researchers.
There is a glimmer of hope, however. NYU Law students recently condemned NYU's Policing Project for working "to sanitize and legitimize a limited version of public safety that relies on increased weaponry for law enforcement and surveillance of poor, marginalized, Black and brown communities."
If these initiatives are to become effective, they will need to broaden their horizons and resist the co-optation of resistance movements by elite intellectuals and institutions claiming to represent the poor and oppressed.