Gun ownership (and hence, violence) in the U.S. is embraced as part of the natural social cost of living. There's no sign this attitude is changing.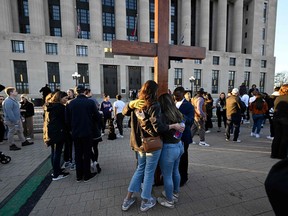 Article content
There were six mass shootings this past weekend in the United States: eight dead, 23 wounded. Fifteen mass shootings the weekend before.
Article content
Americans really don't care much about mass shootings. If they did, things would change. But they don't.
Like most Canadians, I've spent much of my life with eyes cast southwards — with excitement, affection, envy, frustration, horror and amazement. I have wonderful friends and memories there. I studied at great U.S. universities. Nearly one-third of my working life as a journalist was based in the U.S. and another one-third covering the U.S. from Canada. I've visited almost all of the lower 48 and Hawaii.
But more and more, it's a foreign land to me.
I  remember Charles Whitman's massacre from the Texas tower in 1966. I filed a first story as a journalist on "guns in America" in the mid-to-late 1980s. I wrote more later, during the near decade when I was a foreign correspondent in Washington.
Article content
I stopped reading or listening to news about U.S. gun massacres long ago. I also stopped caring. Because nothing ever changes.
The Brady Bill? Weakened over the years.
Can you easily buy an assault rifle? Sure, why not?
Bump-stocks ban? Withering away.
Serious background checks? Nope.
Concealed gun carry without a permit? Good idea!
Public discourse doesn't change, either. The pain and anger of victims' loved ones. The quotes from the gun lobby. The outrage of politicians. The bleating of pundits. Nothing changes.
And why?
The philosophical principle called Occam's Razor says that the simplest answer to a question is generally the best. Here the answer to "why" is: indifference.
It's too easy to lay the blame on the lobby power of the National Rifle Association. Gun laws are written by politicians, so of course money and lobbying matter. But it is America's culture that prevents any meaningful change.
Article content
Despite the anguish and the calls for change, decade after decade, let's be crystal clear: Americans, en masse or in anything remotely resembling a majority, really do not want to move towards a society where the rates of gun ownership drop and the level of gun violence declines toward that in most other modern countries.
(Canada is hardly perfect, but it is better.)
Gun ownership and hence gun violence in America is deeply embraced by its citizens as part of the natural — and more importantly, more awfully, acceptable — social cost of living, of raising a family, of growing a business under their "exceptional" idea of what constitutes a free and safe society. It's an essential part of the deal for citizenship.
The reverence and hagiographic devotion Americans hold for the Founding Fathers of 250 years ago is a puzzle for many around the world, and particularly their encouragement for individual gun ownership over collective social safety.  In recent years, the Supreme Court has overruled many new state- and city-level laws that try to make it harder to buy and carry guns. Most often, the court considers possible tightenings, looks back to the Second Amendment, then breaks for coffee.
Article content
Up North, I can muse on this deeply internalized and unquestioned acceptance of gun ownership and gun violence. But reality speaks loudly. Americans are only willing to argue about the smallest changes on gun ownership, not any significant restrictions.
Ah, but wait; I hear a voice asking: "What about the polls?" The polls do "suggest" a majority of Americans want change. But research on voting shows that ever-so-outraged voters seldom actually vote for change when new laws appear on a ballot.
I said above that I don't care about the massacres anymore. Of course I care about the lost lives and destroyed families. More precisely, it's that I just don't care to listen, though I applaud the brave kids from Parkland, Fla. and others who continue to struggle to curb guns.
Article content
When newscast after newscast, for decades, begins with "there is an epidemic of gun violence in America," a sane person looking on from afar can only conclude that the country actually does not care.
So why should I care about gun violence in the United States, if Americans, proven by their decades-long track record of inaction, clearly don't care enough?
Or, more hopefully, they don't care enough — yet.
Frank Koller is a former foreign correspondent for CBC News, an author and a musician. He lives in Ottawa.