Some Republican supporters of Donald Trump have issued stark warnings after the former president was indicted on Thursday in the Mar-a-Lago classified documents case, with one GOP lawmaker declaring a "war phase" has been reached.
Trump is facing multiple charges, including one under the Espionage Act, for the way he handled hundreds of classified documents since leaving the White House in January 2021. Last August, the FBI seized the documents from his Mar-a-Lago estate in Florida, months after he was issued a grand jury subpoena in May 2022 that required him to return all documents in his possession that were marked classified. Trump has denied any wrongdoing and said he declassified the documents before taking them. Special counsel Jack Smith has been appointed by the Department of Justice (DOJ) to oversee the case.
The former president is facing charges related to violations of U.S. national security laws and conspiracy to obstruct justice, Smith said on Friday during a press conference. Trump has also become the first former president in United States history to face federal charges and is scheduled for arraignment on Tuesday in Miami.
News of Trump's indictment angered conservatives and MAGA Republicans this week who have long been avid supporters of the former president and his political agenda.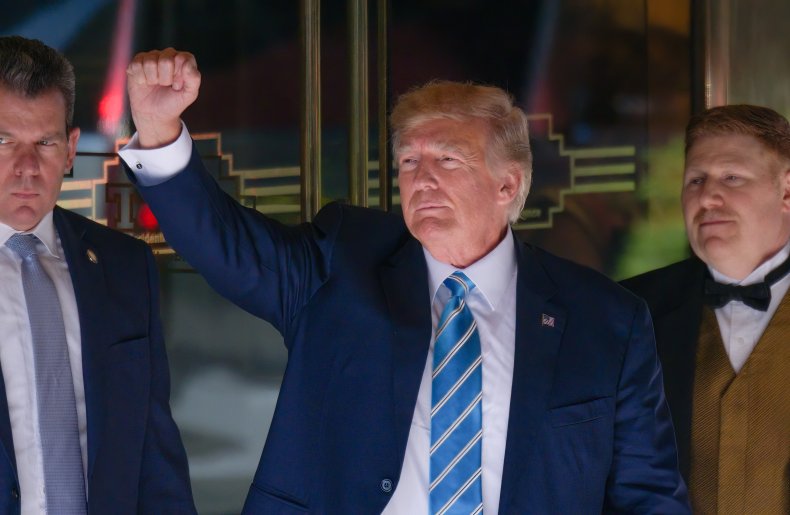 "We have now reached a war phase. Eye for an eye," Representative Andy Biggs, an Arizona Republican, wrote in a tweet on Friday, which former White House strategist Steve Bannon shared on Gettr, writing: "brother Biggs Goes Old Testament…"
In another Gettr post, Bannon shared a clip of Trump asserting his innocence in the case and wrote, "We Have Not Yet Begun to Fight."
Trump reacted to the news of his indictment in a series of Truth Social posts on Thursday night, accusing the Biden administration of being "corrupt" and calling it a "dark day" for America.
"This is indeed a DARK DAY for the United States of America. We are a Country in serious and rapid Decline, but together we will Make America Great Again!" he wrote about the indictment.
Meanwhile, Representative Clay Higgins, a Louisiana Republican, tweeted on Thursday evening, "President Trump said he has 'been summoned to appear at the Federal Courthouse in Miami on Tuesday, at 3 PM.' This is a perimeter probe from the oppressors. Hold. rPOTUS has this. Buckle up. 1/50K know your bridges. Rock steady calm. That is all."
Former GOP gubernatorial Arizona candidate Kari Lake also defended the former president as she sent a blunt message to Smith, President Joe Biden, and U.S. Attorney General Merrick Garland.
"If you want to get to Trump, you're going to have to go through me, and 75 million Americans just like me. And most of us are card carrying members of the NRA [National Rifle Association.] That's not a threat, that's a public service announcement," said Lake, who refused to concede to her Democratic opponent Katie Hobbs, who narrowly won the Arizona governorship race during last year's midterm election. Lake, who was endorsed by Trump, legally challenged the results as she claimed election fraud.
Representative Marjorie Taylor Greene, a Georgia Republican, targeted Democrats in one of her multiple social media posts defending the former president.
"Democrats must literally shake with sweats when they see amazing packed out Trump rallies and overwhelming winning poll numbers week after week," the GOP lawmaker wrote on Twitter. "They must awake in the night with panic at the thoughts of us winning in 2024."
Newsweek reached out by email to the White House for comment.