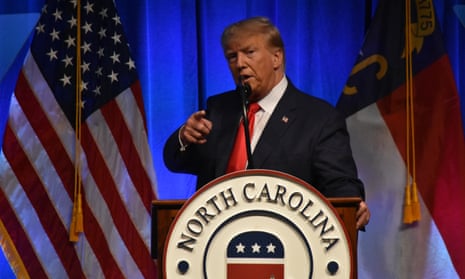 Fears that Republicans' rhetoric after Trump indictment could spark violence
'An eye for an eye', said Arizona congressman, while another representative from Louisiana gave militaristic instructions
Belligerent and conspiracy-laden rhetoric from high-profile Republican backers of Donald Trump has heightened fears that the former US president's campaign against his legal troubles could trigger political violence.
Fewer than 24 hours after Donald Trump was indicted, Arizona congressman Andy Biggs went on Twitter and used violent language to call for retribution. "We have now reached a war phase," he said. "An eye for an eye."
Clay Higgins, another Republican congressman from Louisiana, gave militaristic instructions to his followers. "This is a perimeter probe from the oppressors. Hold. rPOTUS has this," he tweeted, using an abbreviation to refer to Trump as the real president.
Higgins added: "Buckle up. 1/50K know your bridges. Rock steady calm. That is all," he added, using an apparent reference to military-scale maps. (Two days later Higgins tweeted: "Let Trump handle Trump, he's got this. We use the Constitution as our only weapon. Peace. Hold.")
The statements from the two far-right congressmen – both of whom voted to overturn the 2020 election – underscore the alarming way that violent rhetoric has seeped into mainstream US political discourse in the Republican party especially in the wake of Trump's indictment.
An estimated 12 million adults – 4.4% of the US population – believe violence is justified to return Trump to power, according to a recent survey by the University of Chicago's Project on Security & Threats (CPOST).
"I've been reporting on rightwing movements for 20 years. The 'heat' is hotter, the blast stronger. And the source more pungent," said Jeffrey Sharlet, a professor at Dartmouth College and author of The Undertow, a book studying the far right. "The 'rhetoric' is specific: while Twitter giggled at what it took to be the 'word salad' of Higgins' statement, those who study militias read it as the call to arms it is."
It is language that has been encouraged by Trump himself since before he was elected but that perhaps peaked around the January 6 attack on the US Capitol as his supporters invaded the building to try and prevent the certification of Joe Biden's election win.
As a candidate in 2016, Trump pledged to cover the legal fees of supporters who assaulted protesters at his rallies. "I'd like to punch him in the face," he said of one protester at a 2016 rally.
On 6 January 2021, Trump used violent language as he encouraged his supporters to descend on the US Capitol to block the certification of the electoral college vote. "We fight like hell and if you don't fight like hell, you're not going to have a country anymore," he said. What followed was the deadliest assault on the US capitol in American history with five people dying in connection with the attack.
There was evidence that Trump's violent language was inspiring his supporters. On The Donald, a pro-Trump forum, users called for violence in order to restore Trump to the presidency, Rolling Stone reported. "The only way this country ever becomes anything like the Constitution says this country should be is if thousands of traitorous rats are publicly executed," one user wrote, according to the magazine.
A 2020 survey by ABC News found at least 54 criminal cases in which Trump was invoked in connection with violent acts or threats of violence.
"What's happening in the United States is political violence is going from the fringe to the mainstream," Robert Pape, a professor at the University of Chicago who leads CPOST, told the Guardian earlier this month.
Trump allies outside of Washington have also relied on violent language to defend the former president since his most recent indictment for his handling of classified documents after he left the White House.
"If you want to get to President Trump, you're going to have to go through me, and you're going to have to go through 75 million Americans just like me," Kari Lake, the failed Arizona gubernatorial candidate, said in a speech on Friday to applause. "And I'm going to tell you, most of us are card-carrying members of the NRA. That's not a threat, that's a public service announcement."
Pete Santilli, a far-right talk show host, called on the military to use zip-ties to detain Biden, put him in the back of a pickup truck and get him out of the White House, according to the New York Times.
Another guest on the show said he would "probably shoot" Mark Milley, the chairman of the joint chiefs of staff, if it were legal, the Times reported. Santilli also previously called for the execution of former president Barack Obama and other officials if Trump was indicted.
Sharlet, the Dartmouth professor, said the violent rhetoric got worse each day that it persisted.
"Every day it corrodes the hope of democracy. Every day it encourages so-called 'lone wolves' – the real militia to whom such not-so-coded signals are broadcast – to take action," he said.