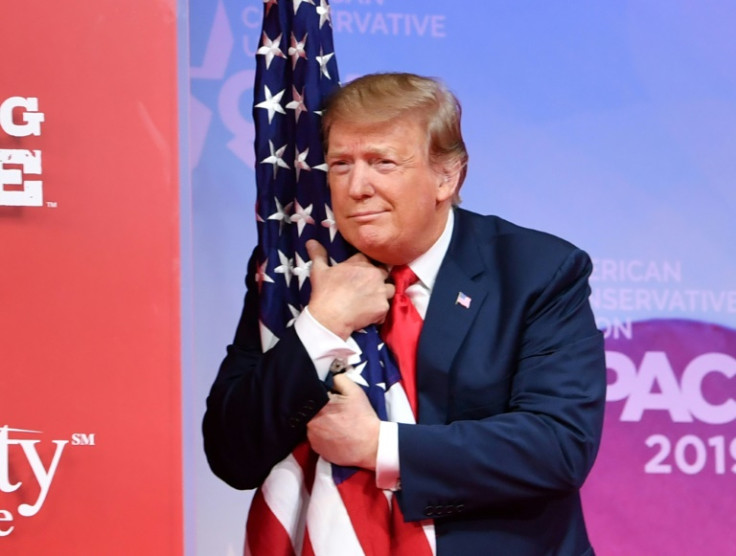 KEY POINTS
Donald Trump faces a 37-count federal indictment over his alleged mishandling of classified government records
GOP lawmakers called the charges a "witch hunt" aimed at preventing Trump from winning back the White House
Federal and local authorities ramped up security measures in Miami ahead of Trump's Tuesday court appearance
Federal and local authorities in Miami, Florida, reportedly increased their security measures to prepare for possible rallies and violence on Tuesday, when former President Donald Trump makes his first appearance in federal court there on criminal charges.
On Sunday, law enforcement officials began ramping up preparations for potential disruptions as Trump and his allies, including several GOP lawmakers, continue to push back on the Department of Justice's (DOJ) 37-count federal indictment of the former president on charges related to his alleged mishandling of classified government records, the Washington Post reported.
Authorities were monitoring plans for a pro-Trump rally outside the Miami courthouse allegedly being organized by a local chapter of the Proud Boys, a far-right extremist group whose leaders were found guilty of seditious conspiracy in the Jan. 6, 2021, attack on the U.S. Capitol.
The Miami-Dade police, in an advisory sent to other agencies, also noted a "flag waving" rally scheduled for noon Monday outside the Trump National Doral resort. The advisory, which was seen by The Post, cited a tweet by prominent right-winger Laura Loomer, who also announced via Twitter a "peaceful rally" Tuesday outside the courthouse in Miami.
Local officials expect that a large number of security personnel will be dispatched near the federal courthouse by Monday morning to secure the area, according to the report.
The Post, citing emails, reported that officials in Miami barred police officers from taking leave Tuesday and informed plainclothes detectives to be on standby wearing their uniforms in case they have to be deployed.
The case, filed by DOJ special counsel Jack Smith, marks the first time a former president of the U.S. has been indicted on federal charges.
The unsealed 49-page federal indictment alleged that Trump willfully retained hundreds of classified government documents and conspired to prevent their return to U.S. officials.
The charging document claimed that after leaving the White House, Trump allegedly kept records containing intelligence about the U.S. and foreign countries' "defense and weapons capabilities" at his Florida home and showed classified documents to other people in the summer of 2021.
Trump, who continues to assert his innocence, is scheduled to fly to Miami from his golf resort in Bedminster, New Jersey, Monday. However, a federal official told the Post that the U.S. Secret Service wants the former president to make the trip early Tuesday.
The trip has not yet been finalized as of Sunday afternoon.
According to campaign aides, the Republican frontrunner is set to address his supporters Tuesday night. He previously gave a speech at his Mar-a-Lago estate just hours after appearing in a New York City courtroom in May for his indictment on charges of falsifying business records.
During a radio interview with Roger Stone Sunday afternoon, Trump called on his supporters to mobilize for a protest. Stone encouraged potential demonstrators to remain peaceful, civil and legal.
But some of Trump's supporters have alluded to potential violence, including former Arizona governor candidate Kari Lake, who has planned a rally supporting Trump at a hotel in Palm Beach, Florida, Monday night.
She noted during a conference of Republicans in Georgia Saturday that she and other supporters of Trump are members of the National Rifle Association.
"We're at war, people — we're at war," she told the audience in her speech, calling the indictment "illegitimate."
"If you want to get to President Trump, you're going to have to go through me, and you're going to have to go through 75 million Americans just like me," Lake added.
Several GOP lawmakers in the House and Senate, including Ohio Rep. Jim Jordan and South Carolina Sen. Lindsey Graham, called the charges a "witch hunt" aimed at preventing Trump from winning back the White House.
However, some former Trump administration aides said that the charges were incriminating.
"If even half of it is true, he's toast," former attorney general William Barr told Fox News Sunday. "It is a very detailed indictment and it's very, very damning."
The plaza around the courthouse was generally peaceful as of early Sunday afternoon, according to The Post.