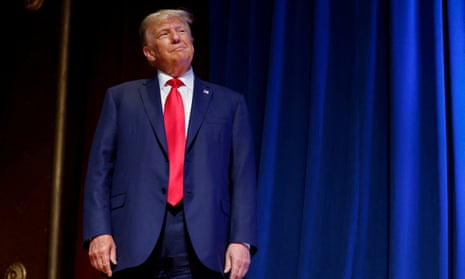 Donald Trump to appear in court on federal charges in documents case
Ex-president to be arraigned in Miami, accused of intentionally retaining hundreds of classified documents at Mar-a-Lago
Donald Trump, the former US president, is set to face the sobering reality of a courtroom on Tuesday afternoon as he stands accused of illegally hoarding classified information in a case watched around the world.
The justice department's first prosecution of an ex-president concerns conduct that prosecutors say jeopardised national security and involves Espionage Act charges carrying the threat of a significant prison sentence in the event of conviction.
Tuesday afternoon's arraignment in Miami, Florida, comes with Trump leading the race for the Republican presidential nomination in 2024, potentially turning his bid for the White House into a battle to stay out of prison. As president he could appoint favourable justice department officials or even seek to pardon himself.
Trump was set to stay at his Trump National Doral Golf Club in Miami on Monday night, then travel in a motorcade to court on Tuesday. On the advice of his Secret Service protection, he was expected to be driven into a concealed entrance so as to avoid the clamour and spectacle of walking through the front door.
He has already been indicted in New York over hush money payments to an adult film star. His court appearance in April was a humbling experience, from having to sit meekly before a judge to the unwillingness of officers to hold a door open for him. Now he faces a repeat but on far more serious charges.
He is still scrambling to find a settled legal team after his lawyers on the case, Jim Trusty and John Rowley, resigned on Friday.
"Donald Trump is scared stiff about serving prison time – he knows he won't survive," said Allan Lichtman, a history professor at American University in Washington.
"Trump is used to evading accountability in the court of public opinion but everything changes when you go into a courtroom. I've been an expert witness in more than a hundred cases. You're not in control. The court, the jury is in control. You can't make baseless charges. Anything you say is subject to the penalty of perjury or to being dismissed.
"Plus, who's going to defend Donald Trump? Who are they going to put on the stand? You have to have witnesses. You have to have documents. You have to have evidence. You can't just say things in a court of law. I don't know what their evidence might be and who their witnesses might be. And I can't imagine any competent attorney letting Trump testify."
Trump's supporters are reportedly planning to load buses to head to Miami from other parts of Florida, raising concerns for law enforcement officials who are preparing for the potential of unrest around the courthouse.
Backing the demonstrations, Trump told his longtime friend and adviser Roger Stone in an interview on WABC Radio: "We need strength in our country now. And they have to go out and they have to protest peacefully. They have to go out. Look, our country has to protest. We have plenty of protest to protest. We've lost everything."
Asked by Stone if he would end his campaign, Trump replied: 'No, I see no case in which I would do that.'"
After his court appearance, Trump will return to his golf club in Bedminster, New Jersey, where he has scheduled a fundraiser and press event to publicly respond to the charges which, embracing martyrdom and victimhood, he has sought to portray as politically motivated without providing evidence.
On Friday the justice department's special counsel Jack Smith unsealed an indictment charging Trump with 37 felony counts relating to the willful retention of national defence information, conspiracy to commit obstruction and false statements.
The 49-page indictment alleges that Trump intentionally retained hundreds of classified documents he took with him from the White House to Mar-a-Lago after leaving the White House in January 2021. The material was stashed haphazardly in a bathroom, ballroom, bedroom and storage room.
It included material on nuclear programmes, defence and weapons capabilities of the US and foreign governments and a Pentagon "attack plan", the indictment says. If exposed, it could have endangered members of the military, confidential human sources and intelligence collection methods, prosecutors said.
Trump's own former attorney general, William Barr, said Trump had no right to hold on to such sensitive records. "I was shocked by the degree of sensitivity of these documents and how many there were," Barr told the Fox News Sunday show. "And I think the counts under the Espionage Act that he wilfully retained those documents are solid counts. If even half of it is true, then he's toast."
He added: "They're not his personal records. Battle plans for an attack on another country, or Defense Department documents about our capabilities, are in no universe Donald J Trump's personal documents. They are the government's documents."
Trump responded to Barr's comments with criticism and insults. Describing Barr as a "lazy" and "weak" attorney general, Trump on his social media platform Truth Social said he only made the comments because he was disgruntled and that they were misinformation. "Turn off Fox News when that 'Gutless Pig' is on," he said.
Allies have rallied to Trump's defence, falsely accusing Joe Biden of trying to jail his opponent as if in a "banana republic" and deploying often incendiary language.
Kari Lake, an unsuccessful Republican candidate for governor in Arizona, said over the weekend that if prosecutors "want to get to President Trump" they're "going to have to go through me, and 75 million Americans just like me. And most of us are card-carrying members of the NRA [National Rifle Association]."
The Lincoln Project, an anti-Trump group, highlighted opinion polls that show Trump still rating higher than all his Republican rivals combined. It tweeted: "The newest indictments against Trump haven't hurt his chances for the GOP nomination, they've secured him the top spot. The Republican Party is standing with him, including all the GOP 2024 challengers who claim they want to replace him."
One potential lifeline for Trump is that, after the arraignment, the case will be initially overseen by Judge Aileen Cannon, a Trump appointee who last year slowed down the justice department's investigation and prompted questions over her impartiality. She was later rebuked by an appeals court panel for granting Trump's request for an independent special master to review the classified documents.