House Republicans delivered a blow to the Biden administration's federal regulation on pistols with stabilizing braces, voting in favor of a National Rifle Association (NRA)-supported resolution that aims to overturn the rule.
The measure, H.J.Res.44, would nullify the Bureau of Alcohol, Tobacco, Firearms and Explosives (ATF) rule that regulates stabilizing braces for pistols and prevent the ATF from reintroducing the same rule in the future.
Pistol braces are accessories that can be attached to the rear of a gun to make it easier to fire with one hand — the accessories are often used by disabled veterans and other Americans. The ATF rule categorizes pistols with braces as short-barreled rifles, which require a federal license to own.
The resolution passed nearly along party lines Tuesday evening at 219-210, with two Democrats voting in support and two Republicans voting against the measure. The NRA, which has been fighting the pistol brace rule since it was first floated in 2021, celebrated the measure's passage "to block this unlawful rule."
SECOND AMENDMENT GROUP TO URGE CONGRESS TO OVERTURN ATF PISTOL BRACE RULE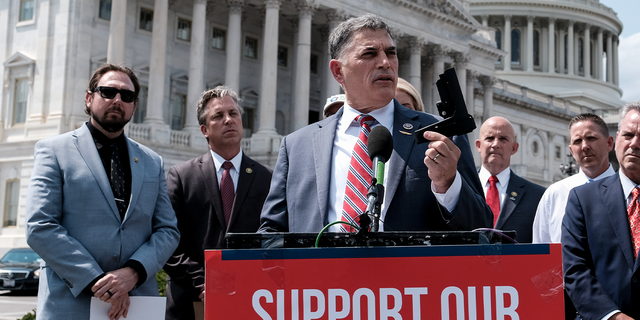 "The ATF's pistol brace rule is a clear abuse of power and could turn millions of good Americans who lawfully own these devices into criminals overnight," Randy Kozuch, executive director of the National Rifle Association Institute for Legislative Action, told Fox News Digital in a statement. "The NRA applauds the U.S. House of Representatives for passing Reps. [Andrew] Clyde and [Richard] Hudson's resolution to block this unlawful rule and prevent ATF from issuing a similar rule in the future. The NRA is putting its full weight behind fighting the action by supporting H.J.Res.44 and challenging it in federal court."
FEDERAL JUDGE IN TEXAS BLOCKS BIDEN ATF PISTOL BRACE RULE ON DAY OF DEADLINE TO REGISTER WEAPONS
"This arbitrary act is yet another example of the contempt the Biden Administration has against gun owners and proof they'll stop at nothing to strip away every Americans' right until gun ownership is a privilege for only the elite," Kozuch wrote.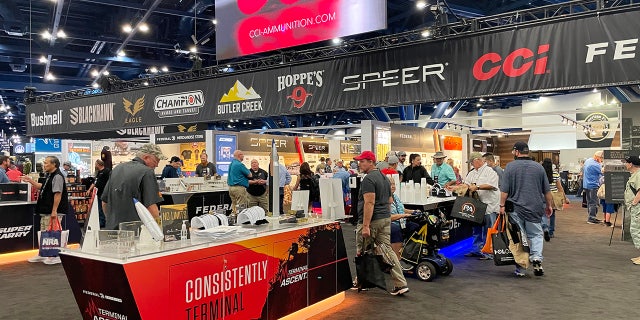 NRA RESPONDS TO NEWSOM'S CALLS FOR 28TH AMENDMENT: 'CALIFORNIA IS A BEACON FOR VIOLENCE'
House Democrats who voted against the measure argued that the rule could save lives, citing the use of pistol braces by mass shooters.
Republican Georgia Rep. Andrew Clyde, who introduced the measure, said in comments provided to Fox News Digital that pistol braces are commonly used by law-abiding gun owners, especially disabled veterans, and described the passage of the measure as sending a "resounding message" to the judicial system that the ATF rule is "unconstitutional."
"Every day, millions of Americans — including many service-disabled veterans — rely on stabilizing braces to exercise their Second Amendment freedoms. Yet through the ATF's rule, the Biden Administration is attempting to circumvent Congress' sole legislative authority by using executive fiat to turn these law-abiding gun owners into criminals for simply attaching this beneficial brace to their firearm," Clyde said.
BIDEN WOULD VETO GOP BILL PROTECTING ACCESS TO PISTOL BRACES
"By passing H.J.Res. 44, the House has sent a resounding message to both the judicial system and the nation that it firmly rejects the ATF's unconstitutional rule and executive overreach, unapologetically defends service-disabled veterans' unalienable right to keep and bear arms, and refuses to back down in the fight to protect all Americans' Second Amendment liberties."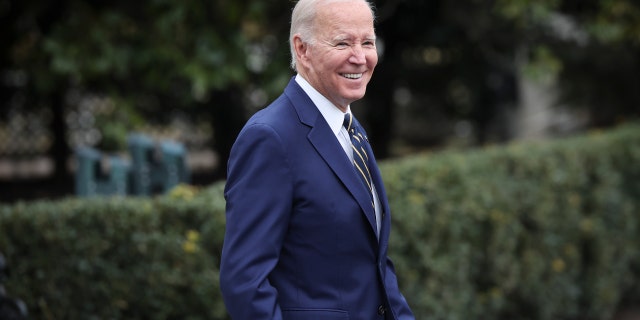 The pistol brace rule was finalized in January, with Americans given until May 31 to register their firearm with the ATF or remove the accessories from their weapons. Those who do not comply with the regulation could face up to 10 years' imprisonment or $10,000 in fines or both, according to the ATF. 
The NRA, state lawmakers and other Second Amendment groups have battered the Biden administration with criticisms for subjecting legal gun owners to potential felony charges, including via an NRA-backed lawsuit challenging the rule in February and the NRA filing an injunction to halt the ATF from enforcing the rule this month. 
SCALISE DENIES GOP LEADERS HELD ANTI-ATF PISTOL BRACE BILL HOSTAGE TO SECURE VOTES FOR DEBT CEILING INCREASE
Republican North Carolina Rep. Richard Hudson, who helped spearhead the measure with Clyde, slammed the Biden administration's rule as "blatant bureaucratic overreach" that circumvented Congress.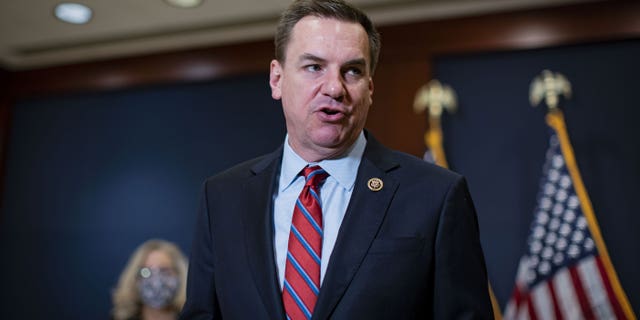 "The pistol brace ban by President Joe Biden's ATF is just another example of blatant bureaucratic overreach from this administration, and it illustrates the dangers of an unchecked federal agency that is willing to go around Congress and the millions of constituents we represent," Hudson said in a comment provided to Fox News Digital. "Americans are tired of unelected bureaucrats making up new laws that infringe on their constitutional rights, and I want to thank Rep. Clyde for partnering with me to lead this legislation — with bipartisan support — through the House."
Earlier this week, the White House said Biden would veto the measure if it reaches his desk.
FEDERAL COURT DEALS BLOW TO ATF PISTOL BRACE RULE AHEAD OF GUN ACCESSORY REGISTRATION DEADLINE
"The rationale is clear: short-barreled rifles are more concealable than long guns, yet more dangerous and accurate at a distance than traditional pistols," the White House said in a Monday statement. "As a result of this industry innovation, in the past few years we have witnessed mass shooters — including those in Dayton, Ohio, and Boulder, Colorado — use these 'brace' devices on heavy pistols in order to inflict mass carnage."
House Majority Leader Steve Scalise, R-La., who backed the GOP measure aimed to overturn the rule, blasted the Biden administration as unleashing "unelected bureaucrats in the ATF to criminalize firearm ownership for millions of Americans."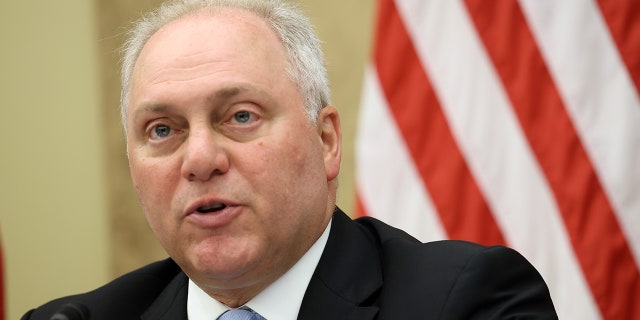 "Americans are already seeing this administration attempt to wrap red tape around every aspect of their daily lives, from the cars they drive to the stoves they use. This attempt to penalize firearm ownership is just another example of radical executive overreach. What unalienable rights will the federal government target next?" Scalise said in comment in support of the measure this month.
GUN RIGHTS GROUPS VOW TO FIGHT BACK AS ATF PISTOL BRACE RULE TAKES EFFECT
"House Republicans will always fight to protect the constitutional rights of American families," Scalise added.
The resolution is now headed to the Senate. If passed by the Senate and subsequently vetoed by Biden, the House and Senate would need a two-thirds majority vote to override the presidential veto. 
"I thank Rep. Richard Hudson for co-leading this vital effort with me, and I applaud our colleagues for joining us in taking a stand against the ATF's brazen overreach and unlawful pistol brace rule," Clyde added in his comment to Fox News. "It's now time for the Senate to follow suit by swiftly passing H.J.Res. 44 — sending this essential legislation to the White House and forcing the President to choose between defending one of our greatest natural rights or intentionally attempting to disarm our nation and dismantle our Second Amendment freedoms."
CLICK HERE TO GET THE FOX NEWS APP
The White House did not immediately respond to Fox News Digital's request for comment. 
Fox News' Patrick Hauf contributed to this report.